I often field this common complaint: 
"I've noticed that turning the idle mixture screws nets different results on each of the individual carbs on my Honda GL1000:
#1 will kill the motor if turned all the way in

#3 has NO EFFECT on engine speed regardless of where it is set

#2 has what might be considered a "normal" effect

#4 has only a very slight effect if any at all
What does this mean????? I'm a bit confused?  Help please!!!!"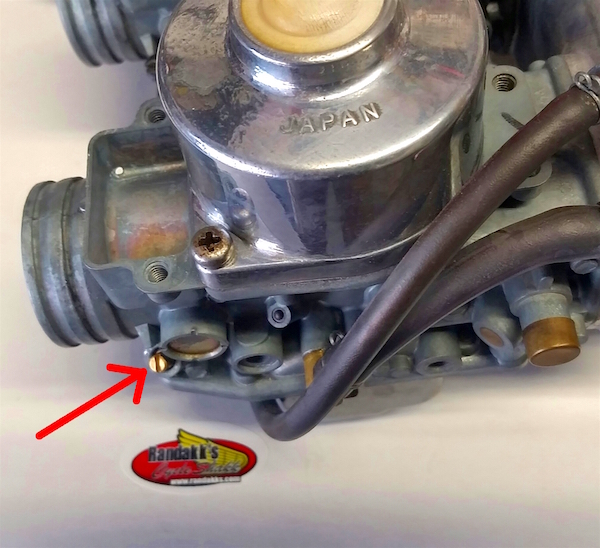 GL1000 Idle Mixture Fuel Screw
Keihin carbs on the vintage Honda models supported by Randakk's Cycle Shakk have notoriously imprecise idle circuits. A certain lack of sensitivity at the idle mixture screws is characteristic of these carbs. 
But, extreme hyper-sensitivity, erratic or non-responsive idle mixture screws are all characteristic symptoms that indicate one or more of these these possibilities: 
Poor sync (very common) 

Vacuum leaks 

Clogged idle circuits (this would require internal inspection/cleaning)

Faulty ignition

Low compression on one or more cylinders

Choke butterflies not opening correctly

Dirty air filter

Internally blocked exhaust header

Curb idle set too high (use an accurate shop tach!)
Tip:  there's not much future in trying to optimize these idle mixture screws individually.  The "idle drop" method is fine, but generally I just set them to spec per the chart here.  If the engine has good compression, proper ignition and the sync is close, you should get good results at the recommended idle mixture screw settings.
Modern ethanol fuel does have a slight lean-out effect, so I typically open the idle mixture screws slightly and equally from the recommended spec to add a bit of beneficial richness to the idle circuits.