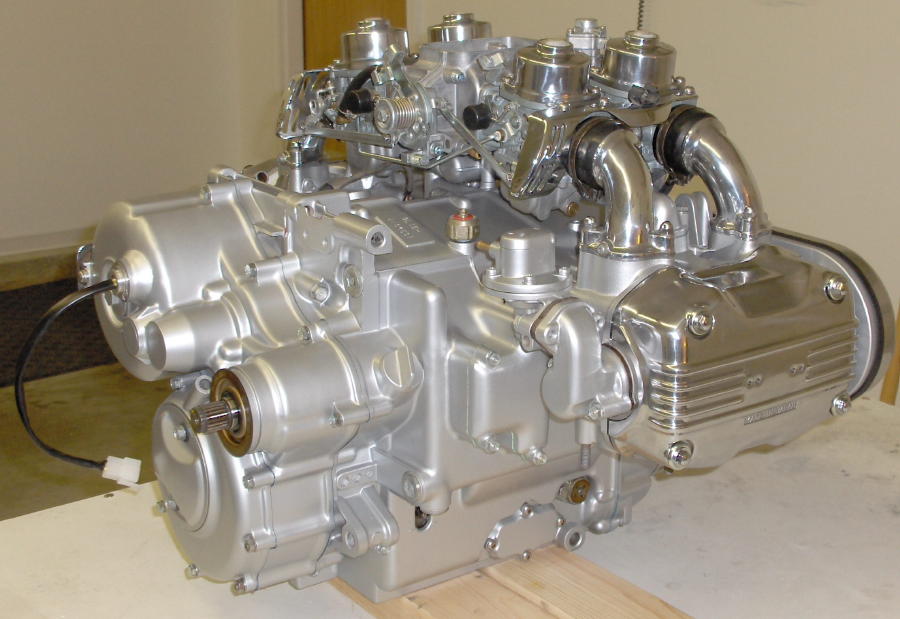 Beautiful GL1000 engine restoration by customer Tom Cox of Loveland, Colorado
Note: the table below is adapted slightly and reprinted with permission from the Classic Wing Club (originally posted here).
Also, engine and frame numbers on these machines were never intended by Honda to "match" exactly.  So long as the numbers are "close" and within the expected numerical range shown below, you probably have the original engine/frame combination as manufactured.
Thanks to Bob Roe and Frank Marx!
HONDA GOLDWING GL1000
1975 Honda GL1000K0 – 1977 Honda GL1000K2
MODELS, AREA CODES AND APPLICABLE SERIAL NUMBERS.
Model

Area code

Type

Applicable engine serial No.

Applicable frame serial No.

Applicable carburetor identification No.

Applicable final driven gear serial No.

GL1000
K0

(1975)

A

U.S.A.

GL1E-1000001

~1020645

GL1-1000001

~1020183

755A

F-1000001

~1023660

DK

General export (kph)

GL1E-1006916

~1019360

GL1-1007088

~1020323

DM

General export (mph)

GL1E-1011857

~1011883

GL1-1011678

~1011687

U

Australia

GL1E-1007562

~1020852

GL1-1007788

~1020691

GL1000LTD

(1976)

A

U.S.A.

GL1E-2033474

~2036896

GL1-2035001

~2037000

763 A

F-1055250

~1058964

CM

Canada

GL1E-2033474

~2036896

GL1-2037001

~2038420

F-1057452

~1058954

U

Australia

GL1E-2033474

~2036896

GL1-2037482

~2038285

ED

European direct sales

GL1E-2035517

~2036772

GL1-2037407

~2038248

755 P

F

France

GL1E-2035517

~2036772

GL1-2037027

~2037386

G

Germany

GL1E-2035517

~2036772

GL1-2037067

~2038362

GL1000 K1

(1976)

A

U.S.A.

GL1E-2001422

~2038639

GL1-2001483

~2032613

758 A

F-1023764

~1060695

CM

Canada

GL1E-2030194

~2038639

GL1-2030951

~2032773

DK

General export (kmh)

GL1E-2011696

~2101086

GL1-2012461

~2041235

DM

General export (mph)

GL1E-2028217

~2101086

GL1-2029016

~2030713

U

Australia

GL1E-2011664

~2101086

GL1-2011867

~2041225

E

England

GL1E-2000001

~2101130

GL1-2000001

~2040080

755 A

755 B

755 C

F-1020556

~1060695

ED

European direct sales

GL1E-2000004

~2101130

GL1-2000004

~2040760

F

France

GL1E-2000003

~2101130

GL1-2000003

~2041225

G

Germany

GL1E-2000002

~2101130

GL1-2000002

~2041275

GL1000 K2

(1977)

A

U.S.A.

GL1E-3000001 ~

GL1-3000001 ~

764 A

764 B

F-1060696 ~

CM

Canada

GL1E-3003871 ~

GL1-3003881 ~

DK

General export (kmh)

GL1E-3000001 ~

GL1-3010001 ~

DM

General export (mph)

GL1E-3000001 ~

GL1-3018501 ~

U

Australia

GL1E-3000001 ~

GL1-3010070 ~

E

England

GL1E-3009148 ~

GL1-3010002 ~

755 C

ED

European direct sales

GL1E-3009148 ~

GL1-3010005 ~

F

France

GL1E-3009148 ~

GL1-3010004 ~

G

Germany

GL1E-3009148 ~

GL1-3010003 ~
This table was created by Frank Marx – from the Netherlands
1975 Honda GL1000K0 – 1977 Honda GL1000K2
If you want to find the best selection online for motorcycle parts, visit our stores below:
www.DimeCityCycles.com | www.Z1Enterprises.com | www.Randakks.com | www.MikesXS.net