Need a replacement muffler for your Honda GL1000?  Then you probably know already that this can be a vexing proposition!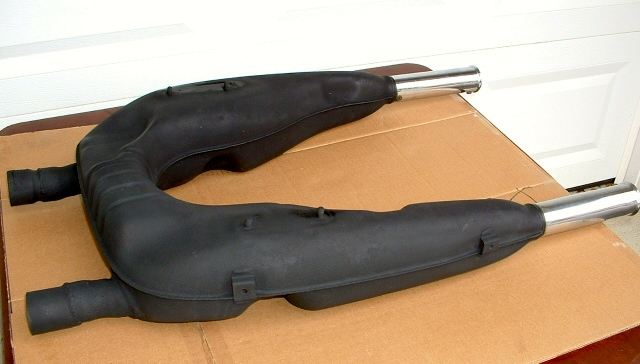 Here are some options:
Find a NOS exhaust. Virtually none are left. Expect to megabucks if you do find one. I recently sold the last one I had.  I don't expect to find any more.  These have been fetching $2,000+ in a few cases!

New Reproduction muffler by NHC Panels in the UK: http://www.nhcpanels.co.uk/goldwing_exhaust.php this unit is distributed in North America by Sirius Consolidated.  See: http://www.siriusconinc.com/pro-detail.php?pid=&product_id=122089 Also available via David Silver Spares in the UK: http://www.davidsilverspares.co.uk/GL1000K1-GOLDWING-1976/part_273632/
Find a good used exhaust …expect to pay $300 for a sound one…getting scarce…most are now junk. Try to get one from a dry, southwestern salvage yard (like Arizona or New Mexico).  See parts sourcing links here: https://www.randakksblog.com/links/

Aftermarket:

MAC – Beware of issues with chrome plating.

Jardine

MoTAD – Distributed in North America by Sirius Consolidated.  See: http://www.siriusconinc.com/pro-detail.php?pid=&product_id=121371
JAMA (hard to find in US)

Fit new Harley "take-off" mufflers available cheap at any Harley shop.  Late model Sportser mufflers work well but you will need some minor fabrication skill. See: http://www.ngwclub.com/forum/viewtopic.php?t=12934  Free registration may be required to view.

Custom exhaust. 

Exotic exhaust like this: http://www.randakksblog.com/widowmaker-4-into-4-megaphone-exhaust-system-for-honda-gl1000/ (Now out of production.)

NOS Kerker 4-into-1. I recently sold my last set of these.  There are very few of these systems left.

Custom fabrication. 
Note: Most aftermarket exhaust systems will actually reduce performance relative to the excellent OEM exhaust system which is superior in terms of flow and scavaging characteristics. More noise does not equal more power!
Usually, no re-jetting is required when the exhaust system is changed.  These bikes will tolerate most any exhaust system without complaint.  However, they are very sensitive to changes on the intake side. For example, K&N air filters are not recommended.
—
If you want to find the best selection online for motorcycle parts, visit our stores below:
www.DimeCityCycles.com | www.Z1Enterprises.com | www.Randakks.com | www.MikesXS.net