Look familiar?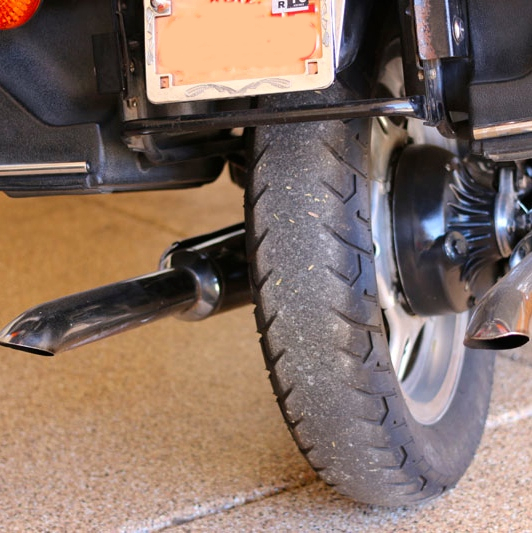 Then you should probably start shopping for some new tires!
Well-maintained and monitored tires are vital for safety!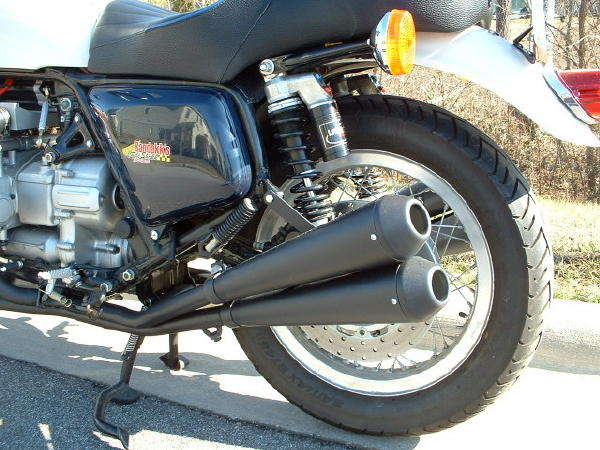 The main points about tires:
Correct size

Correct speed and load rating for the intended use

Age and condition

Tread depth

Correct inflation pressure

Mounted with direction arrow correctly oriented
Mileage is a relatively unimportant variable. Running on old brittle tires – even when they have plenty of treads left is courting a disaster! If you have any doubts about the condition of your tires, REPLACE THEM IMMEDIATELY!
When you buy new tires, you insist that they are "fresh" tires. You don't want to buy new tires that have been sitting in a warehouse for 10 years! Here's a link which explains how to decipher tire date codes: click here
There are lots of tire brands and sources available. If you have a good relationship with a local motorcycle dealer, consider giving him your tire business. Tire work helps keep good dealers in the business.
If you're willing to mount your own tires, then shop online for good values in tires.
There are many good tires available. Here are my 3 personal favorites for a GL1000:
Bridgestone BT45 Battlax
In my opinion, the BT-45 Battlax is the best performance tire available to fit the GL1000. This tire is available in both H-rated and V-rated versions. Get the V-rated version.
Great grip and well-matched to the weight and handling characteristics of the GL1000. I've run this tire in the past on my RC003 Endurance Special.
Battlax BT45 V-rated bias ply, designed to give performance and mileage on sportbikes.

Dual Tread Compound (DTC ) offering long lasting center compound and softer side compound.

DTC rubber combination yields rock-steady performance with acceptable mileage characteristics.

Larger crown radius for greater stability and longer life.

Bridgestone's 'stickiest' BIAS ply Battlax

'V' speed rating

'Diamond block' tread patterns and wide tread patterns and wide tread grooving work hard to remove water and provide stability and traction when cornering.

4 ply casing that incorporates insert plies, a redefined belt technology that helps keep the tire round and cool even at top speeds.

Zigzag and angled outer grooves – front and rear, provide wet weather performance by throwing the water to the sides and the tires will resist rain-groove wander.

Balanced wear characteristics maintain tire profile.

Tubeless design (but you'll need to run tubes on GL1000s) 
Bridgestone Spitfire S11
This tire is a personal favorite…a great all-around tire and an excellent value. You can spend more but why?
The S11 has a 4-ply casing, incorporating insert plies, and a refined belt technology that helps keep the tire round and cool even at top speeds.
There are two tread compounds in each tire for the ultimate in maneuverability and wear resistance – resilient center delivers high mileage and low rolling resistance; shoulder compound gives sport-quality cornering traction. Zigzagging, angled outer grooves give better wet weather traction and performance. Comes in blackwall or raised white letter sidewalls (ugh!). H-rated to 130 mph.
I find that this tire offers far superior turn-in response and traction (esp. braking) compared to vintage OEM type tires.
One other good point about the S-11: the rear tire has a slightly larger installed diameter than most other tires with the same size designation. This small difference makes the bike much easier to put up onto the centerstand. If you struggle to put your bike on the centerstand even with good technique, try this tire!
IRC Durotour RS-310
This tire is a real "sleeper." The ride, traction, mileage and overall performance is excellent…especially for a bargain-priced tire.
These high performance touring tires deliver super gripping power on dry roads and excellent traction on wet ones. Their low profile provides a large contact patch and the tread compound is formulated for extended mileage. Offers extra traction without compromising mileage.
If you'd like to spend a few less shekels, but still insist on a quality tire this one is hard to beat. I've logged many miles on this tire with total satisfaction.
Shinko Tour Master 230
I consider this tire a real bargain. This is the tire I'm currently running on my RC003 Endurance Special.
It's one of the few performance tires available in a V-rated version in sizes useful for vintage Honda owners.
Spend some time at a drag strip and you'll see lots of Shinko's in action. The reason is they are inexpensive yet super-grippy. Not the highest mileage tire you can buy, but one of the "stickiest" at a very reasonable price. I like this tire a lot!
Here are the recommended tire sizes for a GL1000:
Front: 3.50 x 19 (OEM)…….. matches to: 100/90 x 19
Rear: 4.50 x 17 (OEM)………. matches to: 130/90 x 17
By the way, using the wrong-sized tires on your GL1000 can introduce all sorts of handling and safety issues. As noted above, this can also be the cause for excessive difficulty in putting your bike up on the centerstand (esp. if the rear tire is undersized.
If you want to find the best selection online for motorcycle parts, visit our stores below:
www.DimeCityCycles.com | www.Z1Enterprises.com | www.Randakks.com | www.MikesXS.net