Build Sheet Details for Randakk's Supercharged GL1000. Vintage Honda Performance!
This bike is now owned by a collector in Germany.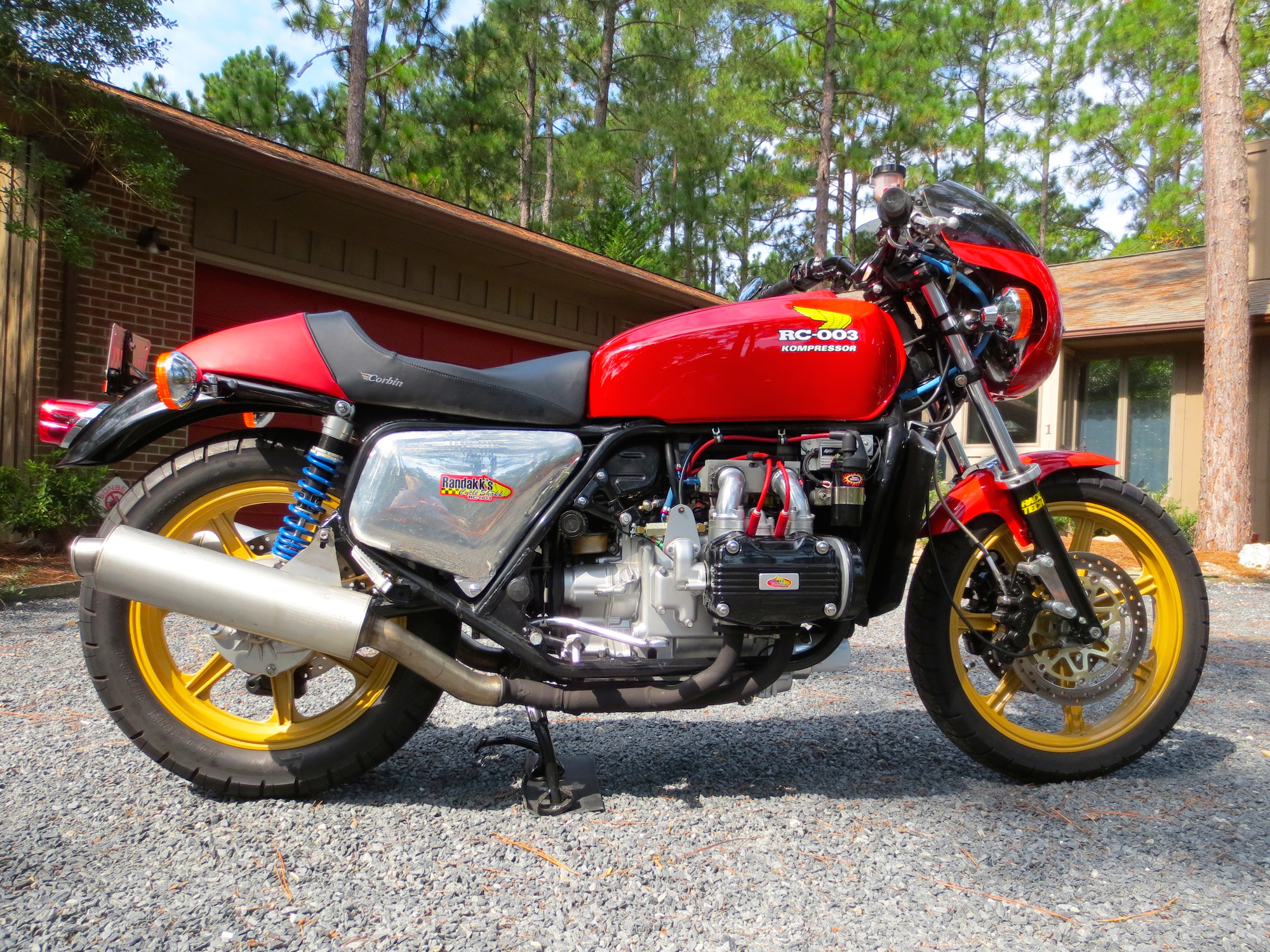 Randakk's RC-003 Supercharged GL1000 …Current Incarnation
Details on Randakk's  Vintage Honda Race Sponsorship
Check out our CBX Farkles Page
Please Read: Disclaimers
Randakk's RC-003 Supercharged GL1000 Features these Randakk Products:
• Randakk's Intake Manifold Set to Mount Dual Weber 40IDF Carbs on GL1000 or GL1100
• High Performance Suspension Components
• Standard Oil Filter Conversion Kit
• Oil Filter Conversion Kit for use with Remote Oil Cooler
• Randakk's Upgraded Front Master Cylinder
• Randakk's GEN II Amazing Grips
• Randakk's Supercharger Prototype
• Randakk's High Performance Intake Clamps
• Randakk's High Performance Fuel Filter
Brief Point-of-View Video Captures the Intoxicating Whine of a Blower!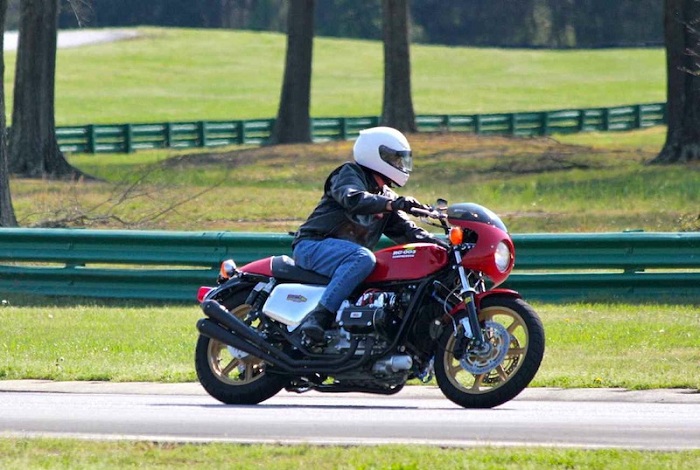 Randakk and RC-003 in action at Virginia International Raceway
Photo by Kuang-Ming Liu

Previous Incarnations: with Proprietary Dual Weber IDFs Setup (left) – Randakk Supercharger and 4-into-4 Megaphones (right)
Pictured above is my 1975 Honda GL1000 Endurance Special RC-003. This cafe racer is a bit out of the ordinary from the normal mods/rockers idiom. It was created with nods to both Rollie Free (don't ask!) and Don Garlits. Probably one of the best-handling and swiftest GL1000s ever, this bike is Randakk's Cycle Shakk's test mule for R&D on high performance products for the GL1000. Many items are under development. For those who've criticized me in the past for being a GL1000 purist snob, your apologies are accepted!
This bike has achieved much notoriety since its original creation in 1999 by my pal Mike Barone. Heavily reworked by me, recent accolades include: Vintage Motorcycles On-line as "Bike of the Month" (February 2009 edition). It was also the Naked GoldWing Club's "Bike of the Month" (November 2010).
This bike represents my vision for the GL1000…and the design direction Honda could have taken with the original GL1000. True to the original sporting inclinations Honda engineers pursued, this bike has it all: handling, performance, and comfort. In the hands of a skilled rider, this bike is a track day and twisty road demon.
All-out speed was not the goal. Instead, I aimed for a balanced performance combination that would deliver an engaging riding experience for a skilled rider. I consider this bike my Gentleman's Express…artful, yet deceptively fast…a modern-day Brough Superior SS100. This is the bike Lawrence of Arabia would ride if he were alive today. But, unless you're Jay Leno, a real Brough is beyond the reach of ordinary mortals …click here for information on the real McKoy.
I have attempted to avoid going overboard on this bike, but I may be losing that battle. The main focus is on function – not fussy attention to finish details. However, I happen to think it looks great…very purposeful. The pipes are especially stunning. Setting aside the blower set-up, my bike could be duplicated at the fairly reasonable expense by many enthusiasts.
This bike handles extremely well given its size and vintage…surprisingly nimble. Very predictable, neutral steering inspires confidence.
Sequential Build Details:
Starting point – stock '75 GoldWing (very high serial number)

Front fender: Ducati early model 750SS

Front fork springs: Race-Tech

Steering head roller bearing upgrade

Stainless steel braided brake lines by Russell

Later model GL1000 driveshaft / universal joint / zerk fitting upgrade

Dyna/S electronic ignition

Dual Weber 40 IDF conversion: click here for details

V-rated tires.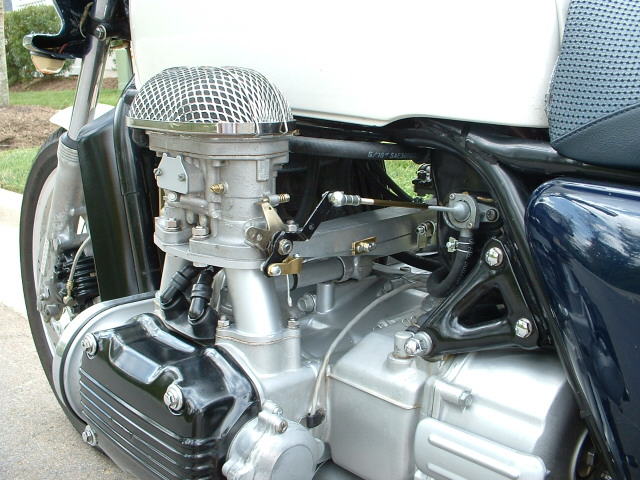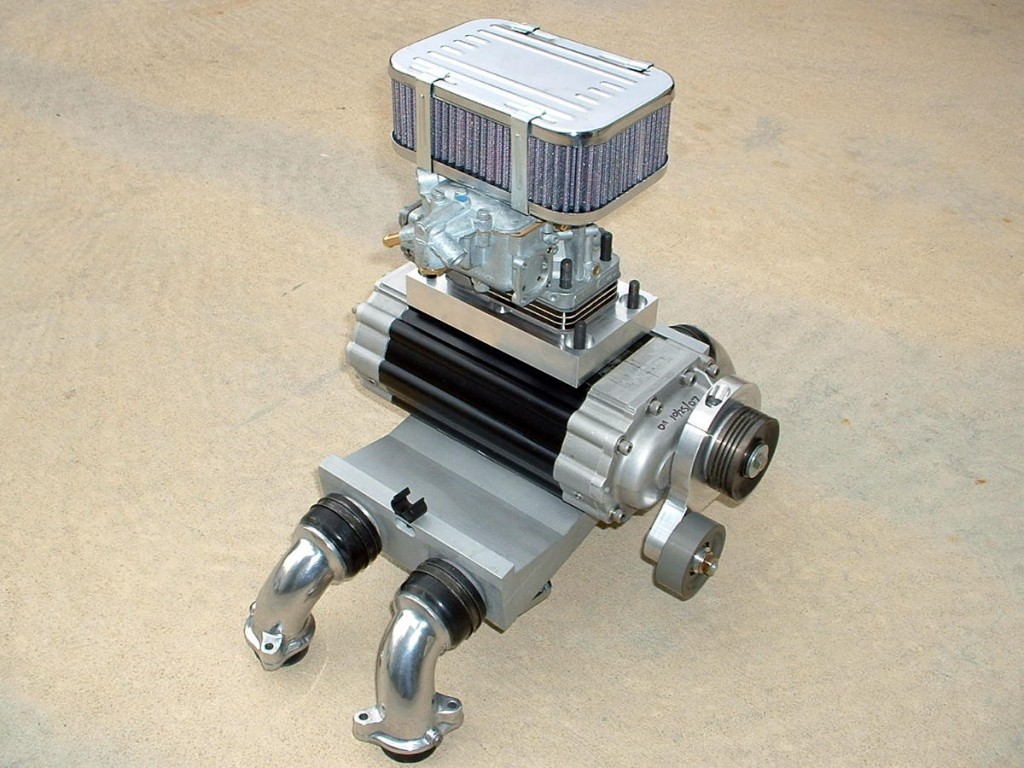 High Performance Intake Clamps: click here for details.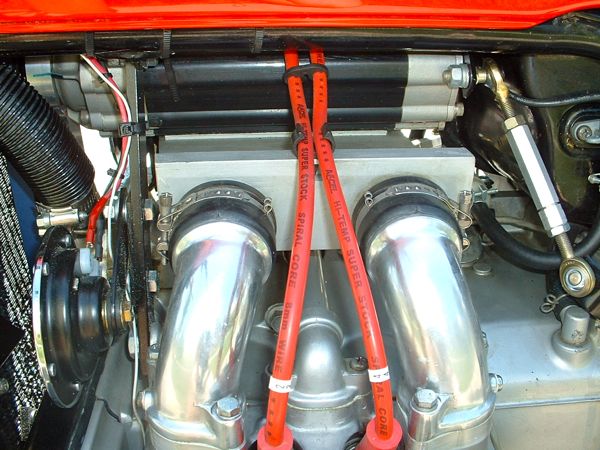 Accel coils and wires. I used ACCEL part #140403 which is their Universal Super Coil Kit for installation on 4 cylinder motorcycles that use breaker points (or non-CDI electronic conversion ignitions like Dyna) The kit includes 2 coils, 8.8 mm wires, caps, terminals, brackets, etc. I used the stock Honda brackets, but modified them slightly to increase the spacing between the coils. Used as is, the stock brackets will allow the coils to touch each other which is not good. When I installed the blower, I switched to a different type of Accel wires.
Bold New Graphics sourced from my friends at TapeWorks
Custom Paint by Dennis Stickney
Color: genuine Ferrari Rosso Corsa red
Cary, NC
Email: dennis_stickney@yahoo.com
Phone: 919-656-4914

Custom Hand Crafted Aluminum Side-Covers by Evan Wilcox – "Salt Flats Finish"
Hand Formed Metal
3001 Mill Creek Road
Ukiah, CA 95482
website: www.wilcoxmetal.com
Email: ewilcoxmetal@cs.com
Phone: 707-467-3993
Randakk's electric fuel pump (special prototype):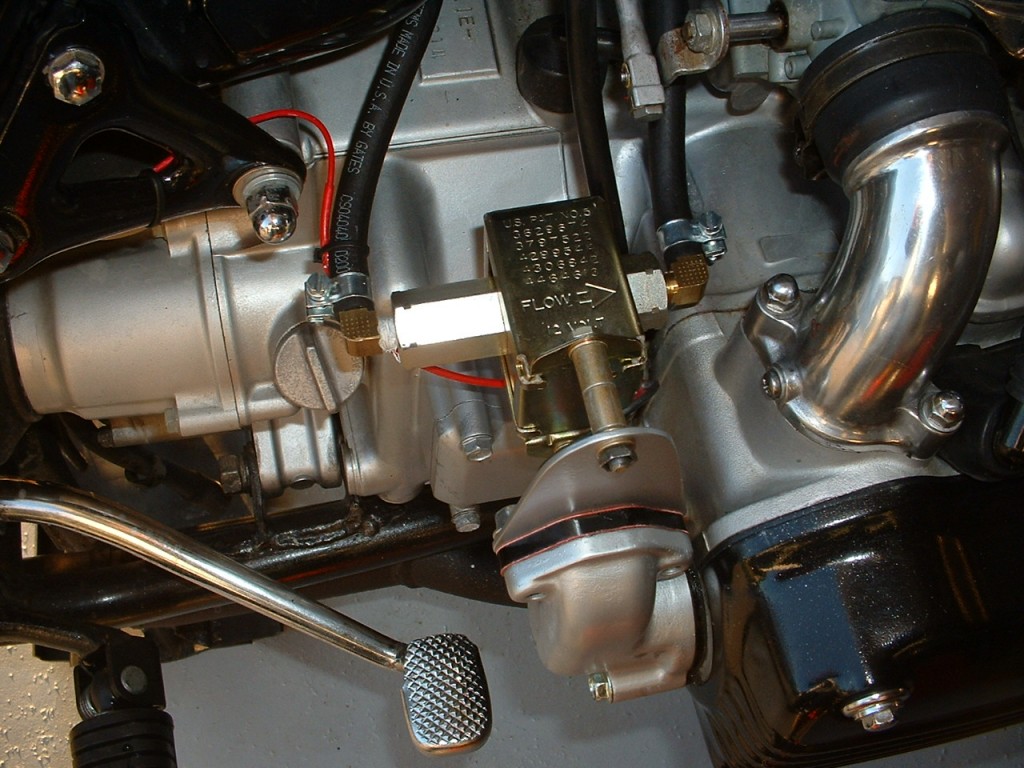 Speedo / Tach restoration courtesy of Pete Boody (Pete no longer does gauge restorations)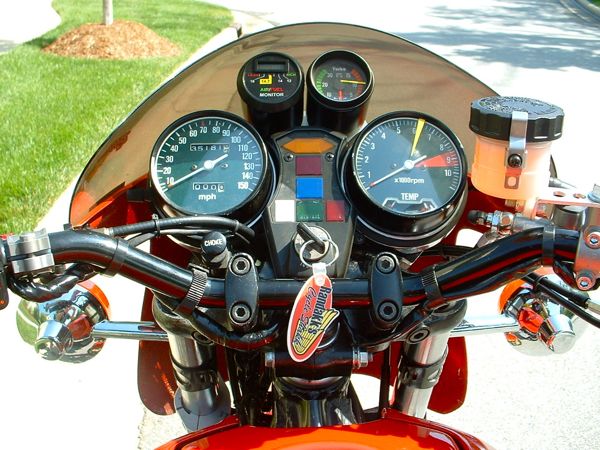 NGK Iridium spark plugs
Randakk's Amazing Grips
K&N Air Fuel Monitor (great tuning aid!) & Stewart Warner Boost Gauge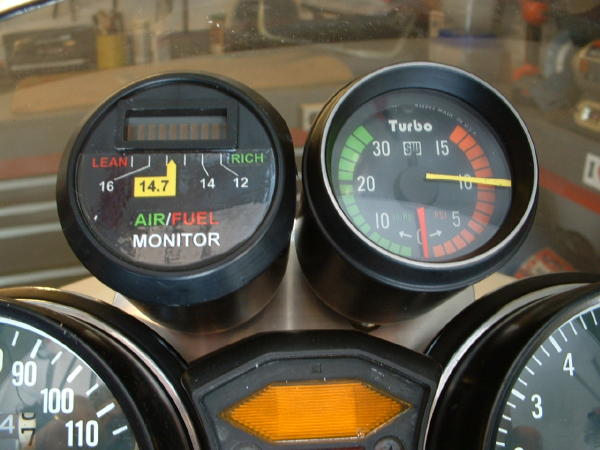 Now running
Dunstall Quarter fairing by Air Tech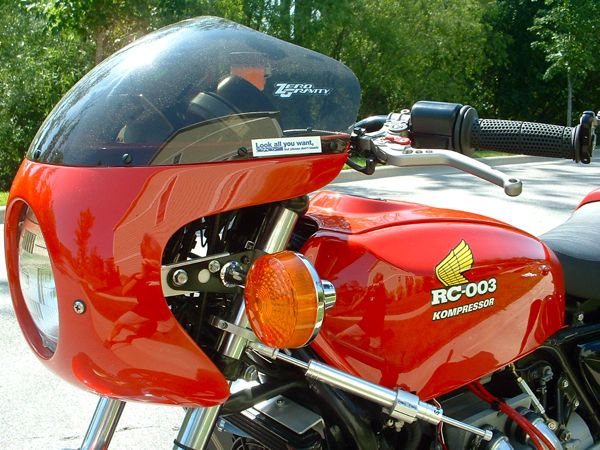 Randakk Prototype Steering Damper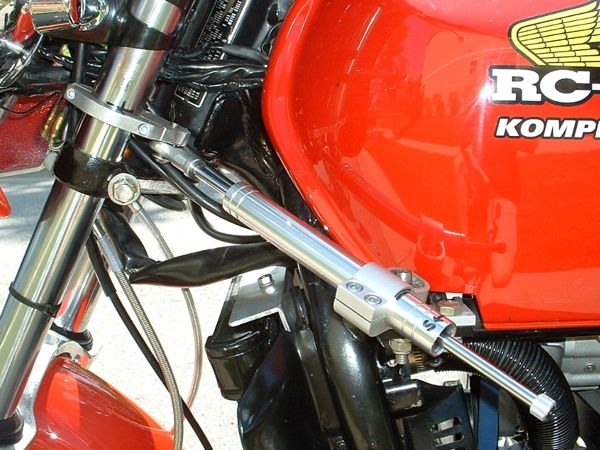 Custom Distributor Ignition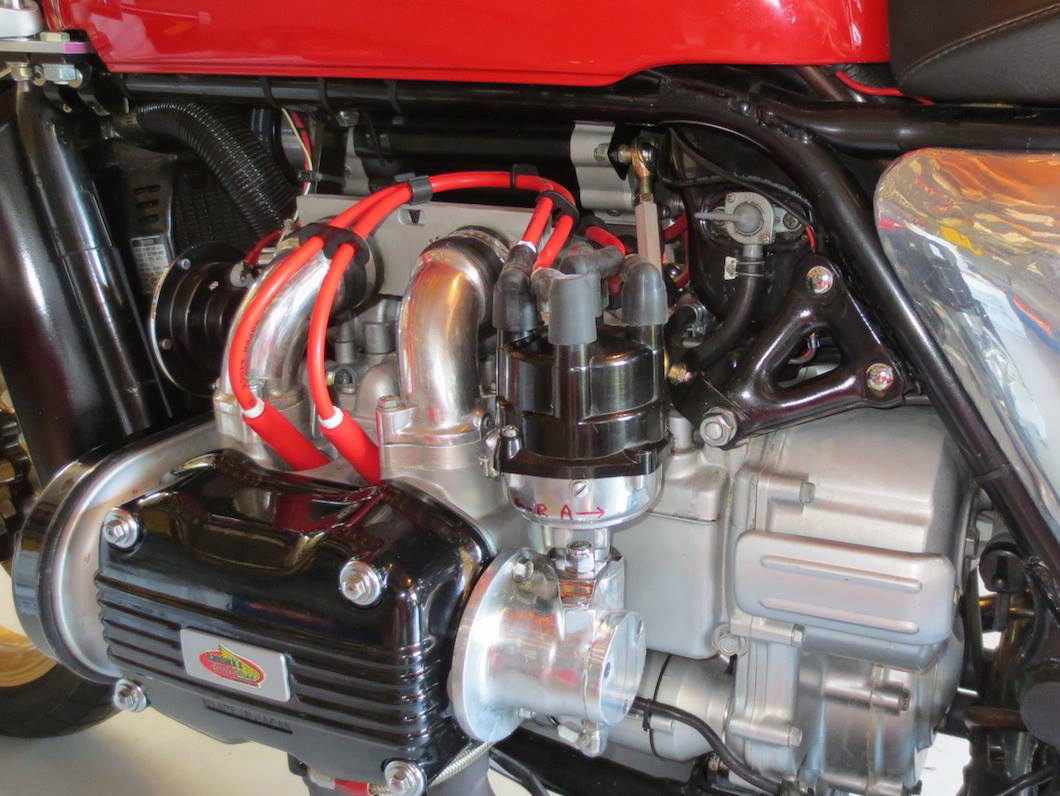 Radical GL1000 ignition is now on the road and performing well.  The distributor is a modified Delco-Remy model originally spec'd for a Chevy Vega! The drive housing is a "one-off."  The left camshaft required a minor mod to mate to the drive unit.
Other components:
Hotter Coil (Pertronix FlameThrower: 0.6 ohms, 45,000 Volts …epoxy filled for vibration protection)
Accel spark plug / coil wires
Pertronix Ignitor II electronic ignition conversion – with "adaptive" dwell logic microprocessor
Pertronix Rev Limiter
Special thanks to Ken Sperry and J.R. Luksik for their assistance on this special ignition!
Heavy Duty Barnett Clutch:
Friction Disk Set: #HPK-18 (includes 9 disks…only 8 are used)
Disk Clutch Plate Set (6): #401-35-078024 (same as old Barnett number #HP-24-20)
Heavy Duty Spring set (6): #MT-15-6
OEM damper plate retained in the center position
Use new Honda clutch cover gasket: #11393-371-306
Use new Honda clutch shaft oil seal: #91202-KFL-841
'77 clutch lever, '77 clutch perch, and '77 left handlebar switch (extra leverage of longer lever reduces clutch lever effort)
Now running CRG Supersport Clutch Lever:
6061-T6 aluminum
CNC machined billet construction
Ball bearing pivot
Variable leverage ratio
Adjustable reach
Teflon sleeved
Ball / spring / detent on-the fly large cable adjuster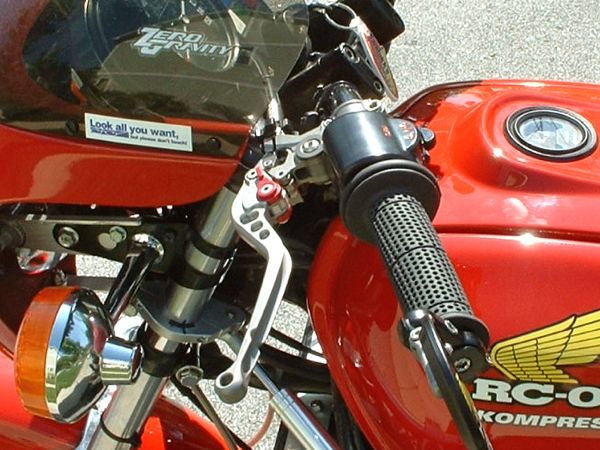 For short spirited rides, I prefer this modified Triumph Thruxton seat with integrated tail cowl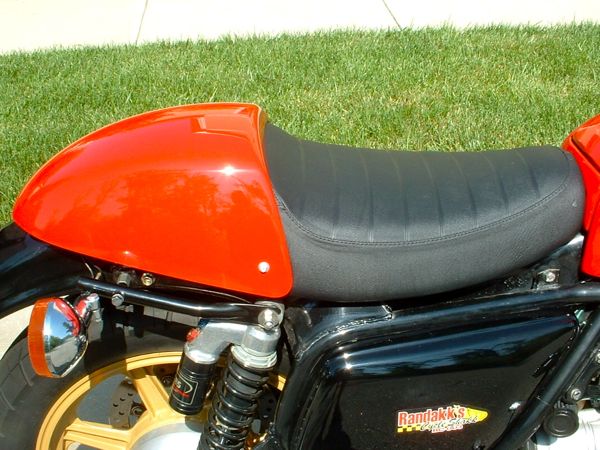 I also commissioned this heavily customized Corbin leather seat…ideal for longer rides!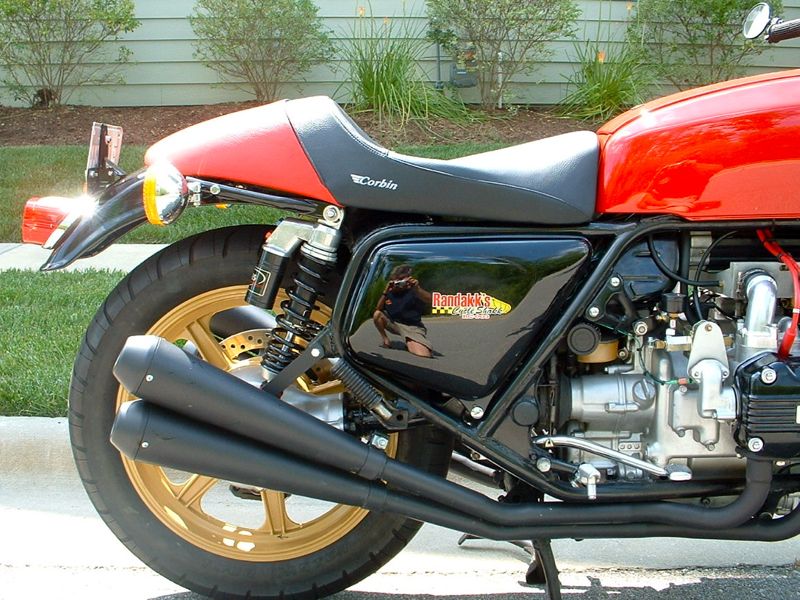 Flanders Superbike handlebar with CRG Hindsight / LS mirror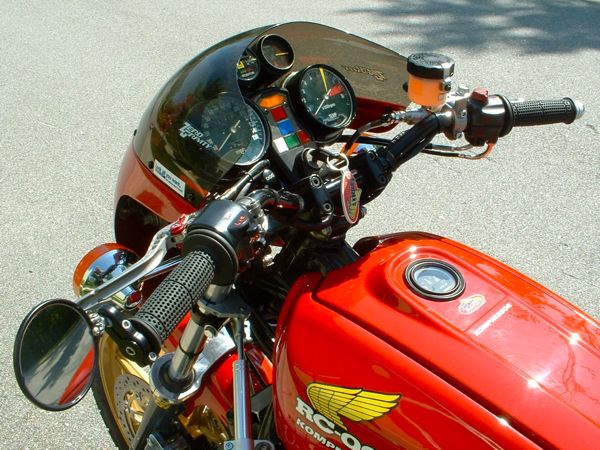 Randakk's Upgraded GL1000 Front Master Cylinder: click here for details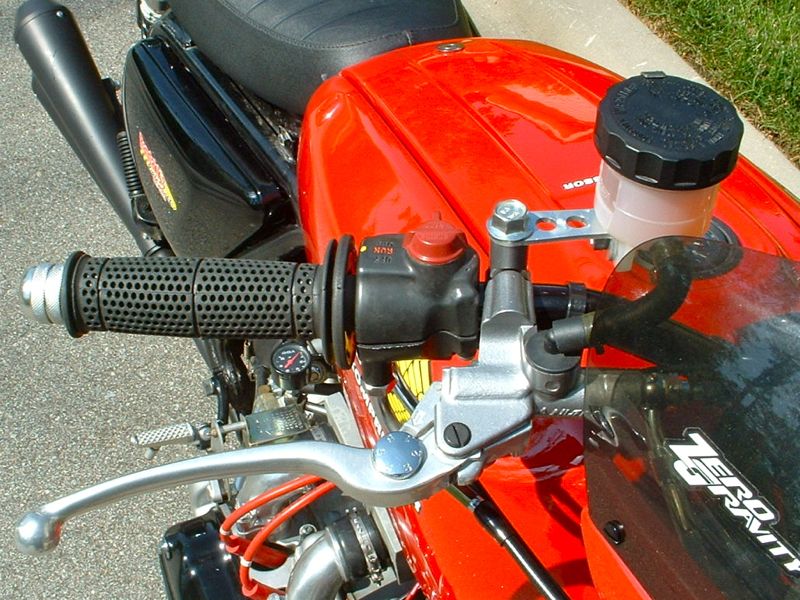 Upgraded Brake Setup:Stage II Fishhead Big Brake Conversion with Lester mags (19″ Front/18 Rear")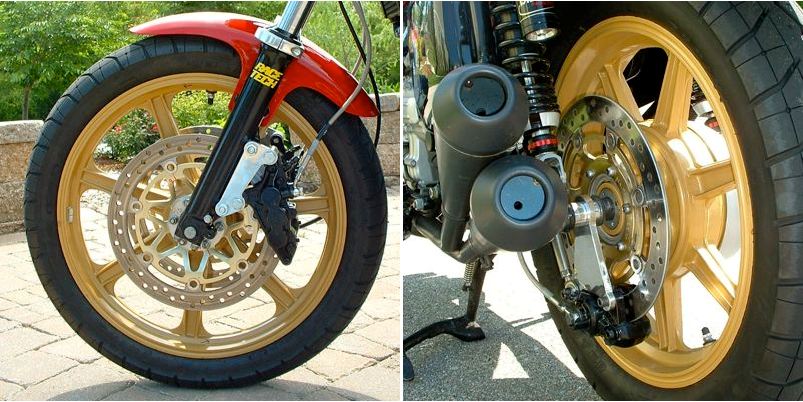 Front: 310mm discs and dual 6 piston Tokico calipers
Rear: 296mm disc with underslung 2 piston Tokico caliper
Stage II Fishhead Big Brake Conversion sourced from:
Daniel Fischer
Fischer Vintage Cycle
856 York Street
Hanover, PA 17331
Phone: (443) 929-2824
Daniel Fischer email:fishheadcycle@comcast.net
VDO oil pressure gauge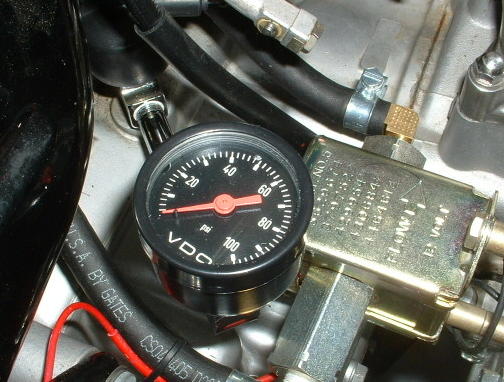 Voltmeter robbed from an unknown Honda donor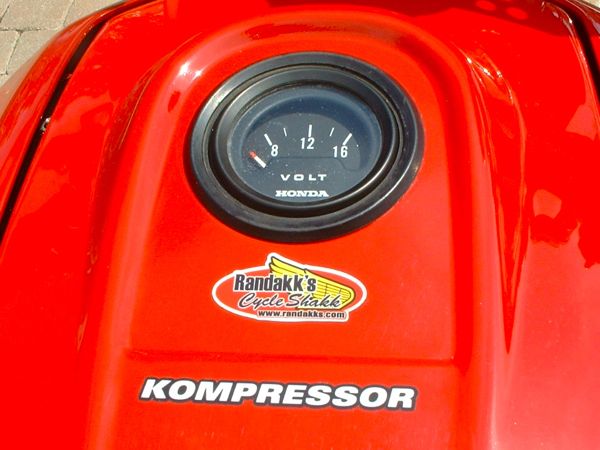 Randakk's standard oil filter conversion kit to allow "spin-on" filter: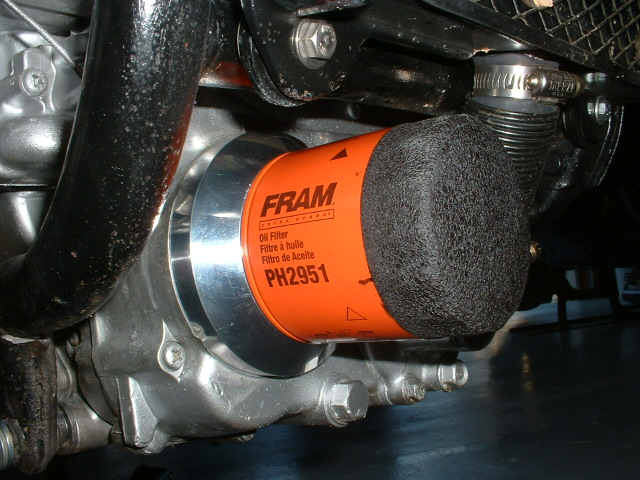 Since the addition of the supercharger, I'm now running a special oil filter adapter (to permit oil cooler) created for me by Bob Hagerman available here. Cooler is heavily-modified unit from '82 Honda CB900F. Also running a Think Automotive competition oil cooler thermostat (Mocal model #OT/2F-8JIC) connected via Aeroquip hoses with 8AN fittings.

 Randakk's High Performance Fuel Filter: click here for details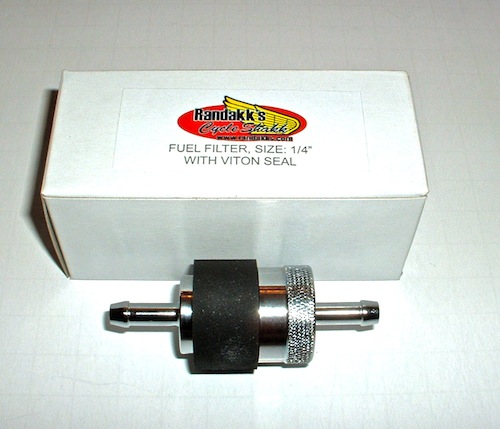 Shinko V-rated tires
Centerstand geometry tweaked for better cornering clearance
Modified sidestand
Honda CBR1000RR front and rear footpegs and hardware (modified)

Harley late model Sportster taillight and license bracket. This really cleans up the rear of the bike visually.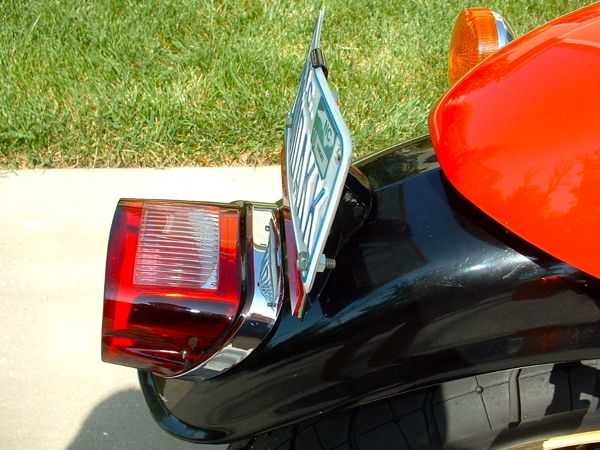 Superbrace fork brace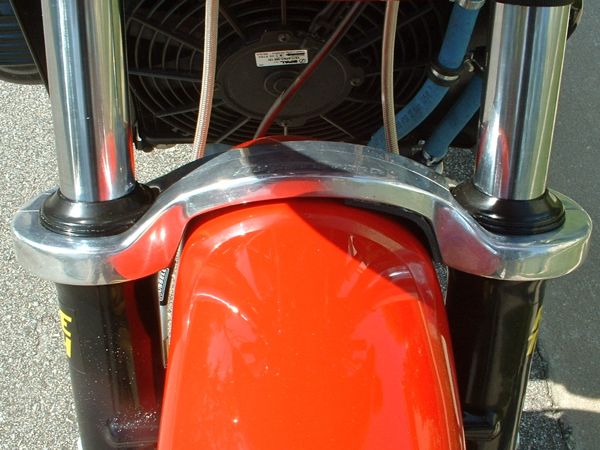 Race-Tech front shocks with cartridge emulators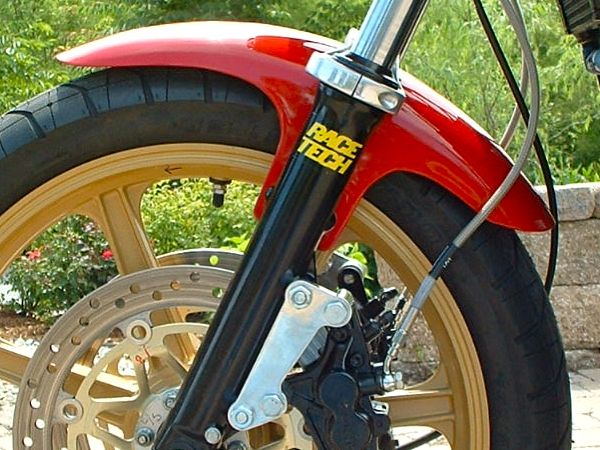 Wilber's competition rear shocks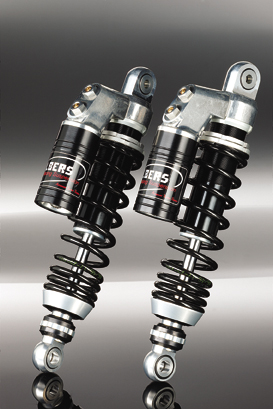 Key Links:
If you want to find the best selection online for motorcycle parts, visit our stores below:
www.DimeCityCycles.com | www.Z1Enterprises.com | www.Randakks.com | www.MikesXS.net