As I reported in the December, 2007 eNewsletter, the Supercharger Kit is on the road and performing very well.
For a variety of business reasons, I decided not to proceed to production.
This bike is now owned by a collector in Germany.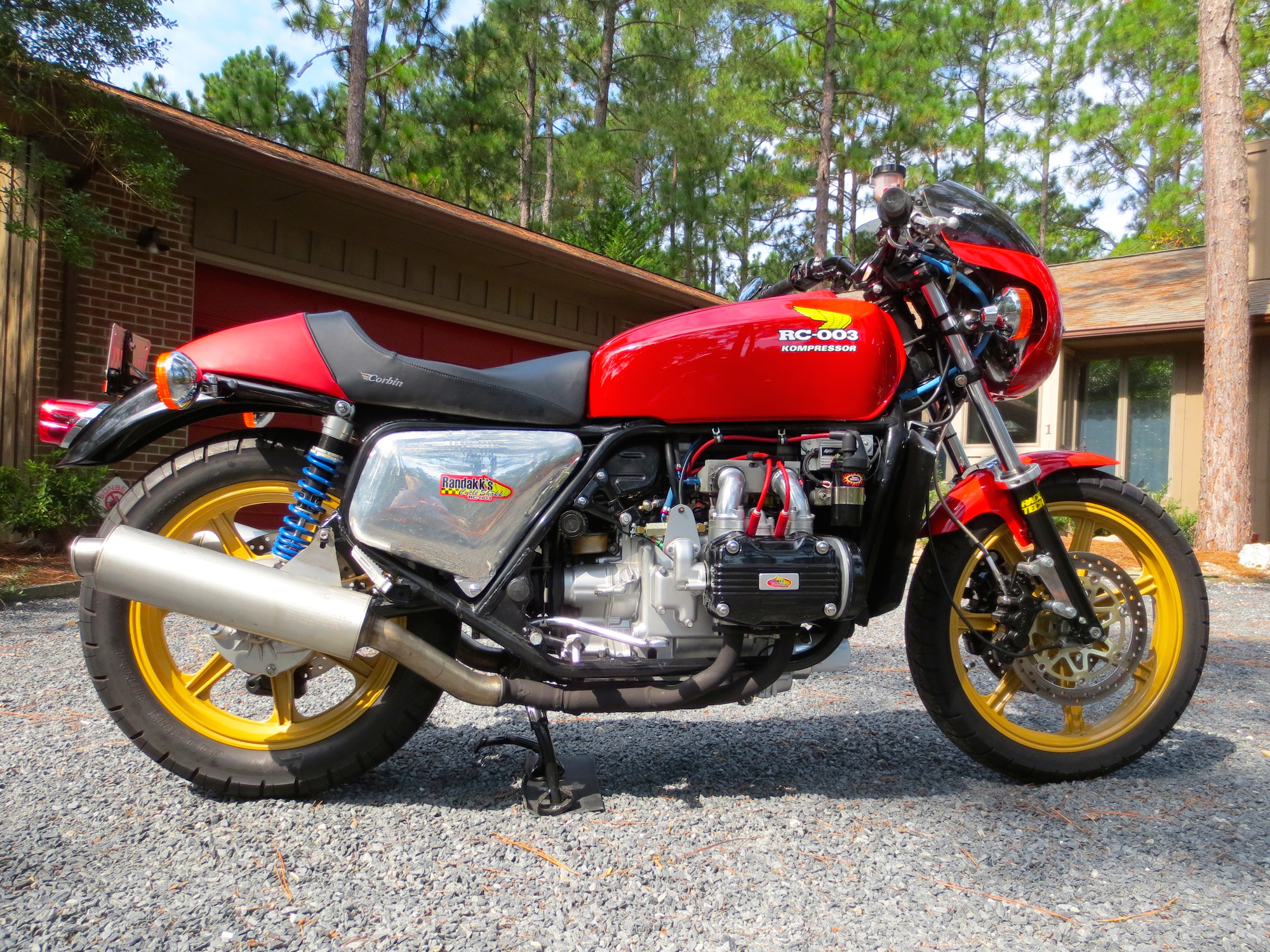 Brief Point-of-View Video Captures the Intoxicating Whine of a Blower!
I'm certainly not the first to put a supercharger on an early Wing. Other parties have done so dating back to the late '70s. I've owned quite of few of the CC Products blower kits …they are excellent! 
My goal on this project was to build a better blown GL1000 than any I've seen on the road. Previous efforts that I've evaluated have limitations that I hoped to overcome. I believe I have been very successful from an engineering point of view.
Special thanks to my good friend Lars Nielsen, aka "Octane" of Denmark for his invaluable assistance on this project. Lars is an internationally famous GL1000 enthusiast and prominent technical contributor to: Naked GoldWings Forum. Here's a video of Lars on his own Supercharged GL1000.
My set-up works very well. I'm very pleased with the performance and operation. It has far exceeded my expectations.
Now for the bad news. As a parallel effort, I've worked very hard on the business aspects of this project – struggling to get the manufacturing costs down to an affordable level so that I could sell this set-up as a comprehensive kit. Here's the result of that effort. If I were to commit to a minimum production run of 10 complete kits, the selling price (with a very thin margin) would be at least $5,700 per kit. Sadly, I realized that there is no market for this product at that price, so I decided not to proceed to production. The price is actually not that far out of line with what CC Products was charging for their kit back in the '70s (when you factor in inflation), but it's still an outrageous expenditure for an antique motorcycle.
Even at such a price, I would not recover the R&D costs incurred so far. Worse, there would be a considerable risk of installation mistakes, canceled orders and various other problems on the buyers' end, plus some level of warranty exposure on a complex install that I could not fully mitigate. Actually, only one failed installation out of 10 would put me considerably "upside down" on this project. So, with regrets – I will not be putting this into production.
I will enjoy my creation and look forward to showing it at upcoming rallies and events. I am very disappointed that I could not get the price down to "merely expensive." Thanks to everyone who provided assistance and moral support for this effort! 


Randakk's Supercharger Prototype
"Stack" height of the entire unit easily fits under stock top shelter bodywork…very stealthy!
Components:
Supercharger
Intake manifold
Carburetor
Air Filter
Carburetor spacer / adapter
Serpentine belt drive system
Special electric fuel pump conversion
Electric radiator cooling fan
Front / rear bracket support systems
Auxiliary oil cooler
After much experimentation, I finally settled on an overdriven drive ratio (115%) selected to achieve a conservative 5.0 psi boost at 5,000 RPMs. This yielded approximately 8.0 psi max at redline. This fairly conservative setup allows the bike to run on pump gas without significant modification to ignition timing and no danger of detonation or excess heat. Premium fuel is required (mandatory). I'm sure I've left considerable horsepower on the table…striking a reasonable balance between performance and reliability.

Pulleys and belts left over from drive ratio experimentation. Now running heavy duty Gates Racing "Blue" Belt
Target = 25% horsepower increase at rear wheel (with healthy torque increase). The rush to redline is ferocious! There is no rev limiter (yet) and the rider must exercise great care to avoid over-revving the engine. In the lower gears, it will blow right past redline in an instant.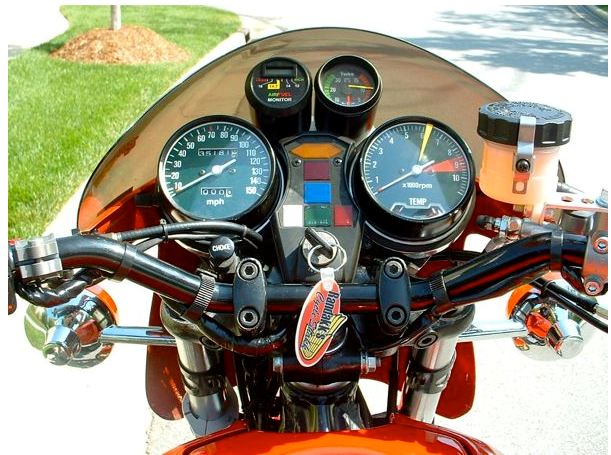 Boost Gauge – Very Entertaining!
This blower has somewhat lower displacement than the blowers that have typically been configured for early GoldWings in the past. This design has advantages in terms of:
Reduced inertial loads for better throttle response

Max boost in this application is somewhat blower-limited (by design) and biased toward mid-range performance.
Positive displacement, twin-rotor "Roots type" supercharger is rated for 12,500 RPMs

Made from high quality materials – 4340 gears and shafts

Viton rotor seals

Extruded aluminum center section

Each straight-cut rotor has 3 lobes.

All parts are precision machined to aircraft specs

Serpentine belt system…more durable and tolerant on belt alignment

Custom-fabricated idler arm unique to this application (for belt tensioning)

Self-lubricated

Custom-length front drive module engineered specifically for this application

Robust, heavily triangulated front blower support arrangement – more than restores the frame rigidity lost by elimination of the OEM shroud / torque rods

Integrated throttle cable attachment points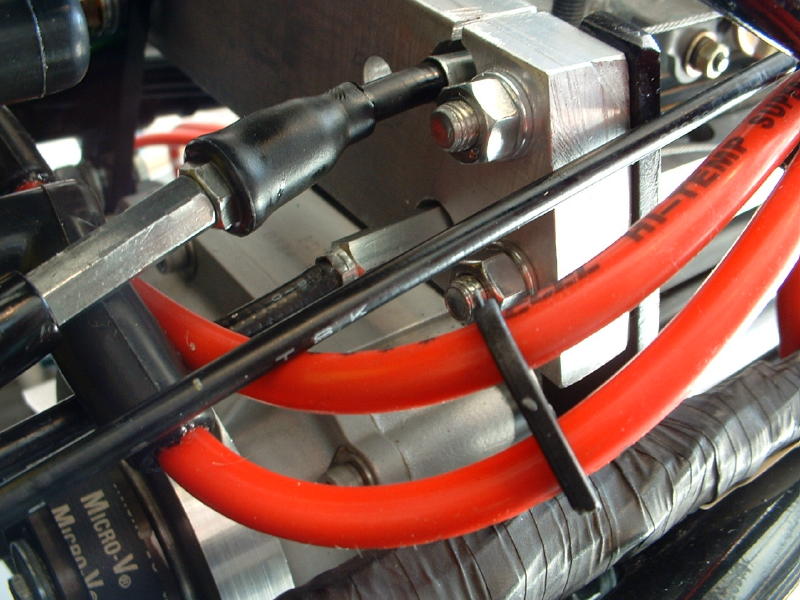 Twin Heim joint rear blower supports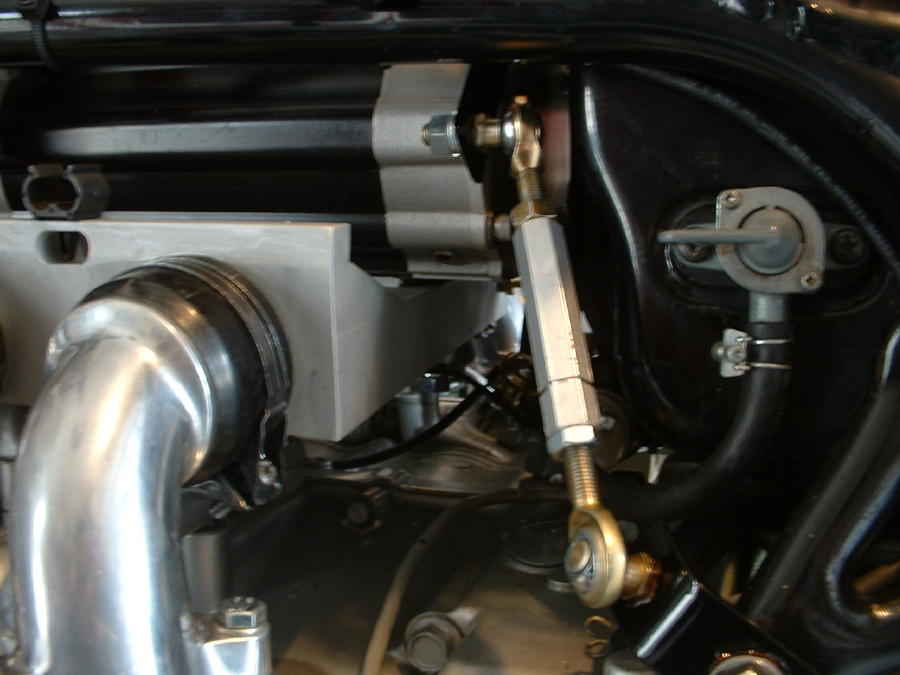 Proprietary Randakk parallelogram design with internal "wickers" and velocity baffles

Simple exterior…complex internal architecture

Designed to use OEM intake runners + clamps

Low profile, long blower + intake design + carb selection yields optimized fuel charge path

O-ring groove in the mounting surface for a positive seal

Integrated spark plug wire holders

Anti-backfire device to protect the plenum and bower seals

Randakk's High Performance Intake Clamps
Randakk's Manifold is CNC-fabricated from solid billet aluminum
Carburetion:
Weber carb with proprietary mods
Choke butterflies eliminated for better peak performance.
Fast idle function retained for easy starts
Push / Pull throttle cables retained for safety
Carb Spacer / Adapter:
Exquisitely machined and cc'd adapter / spacer for max balanced flow
Carefully executed transitions from round carb bores to rectangular oval blower inlets
Adapter / spacer has o-ring groove in the mounting surface for a positive seal
Phenolic heat isolator
Fuel Pump:
Special version of Randakk's electric fuel pump conversion with tolt sensor. The standard model described here
Heat Management:
 Ignition timing mods
 High quality moisture and dust proof electric radiator fan by SPAL with sealed motor sourced from Italy.
Full coverage, high flow, low draw "pusher" fan mounts in front of the radiator. Rated at 650 cfm. Moves considerably more air than the feeble OEM unit.
Front fender modification required for clearance. I looked at many options, but this was the only practical way to get the serious cooling capability.
Running special oil filter adapter (to permit oil cooler) created for me by Bob Hagerman available here. The cooler is heavily-modified unit from '82 Honda CB900F. Also running a Think Automotive competition oil cooler thermostat (Mocal model #OT/2F-8JIC) connected via Aeroquip hoses with 8AN fittings. Standard oil filter conversion kit described here.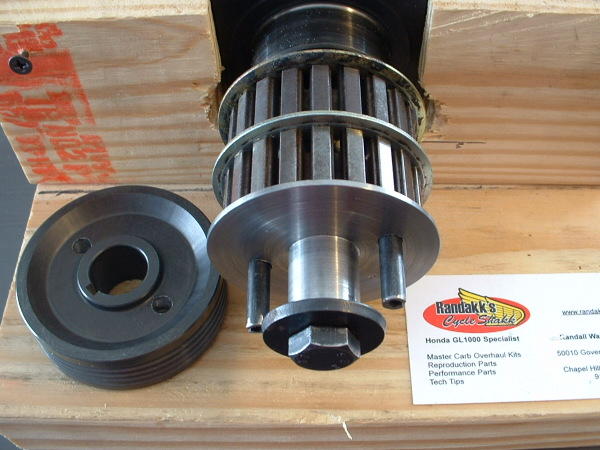 Serpentine drive eliminates belt "walk-off" that plagues other designs.

Compared to a direct-drive cogged belt, a serpentine belt reduces the risk of "backfire" damage and simplifies the design of the "anti-backfire" valve on the plenum. Under the extreme stress of a backfire, a serpentine belt will "slip" enough to allow the blower to rotate back-wards to relieve the pressure of a back-fire. Back-firing is not really an issue once the carb jetting is dialed in. This is why blower setups must start out very rich on initial start-up.

Gates Racing "Blue" belt

Robust no-wobble, no run-out drive pulley mount.

Features machined bushing / flange with the precision boss to mate with OEM timing gear

Integrated outer timing belt guard replacement!
Installation: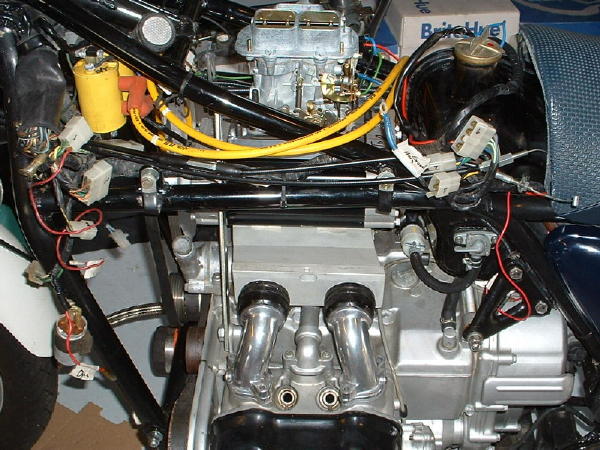 The installation was straightforward, but time consuming. The picture above shows the test fitting of various prototype components and is a good indication of how "deep" I had to go.
Consider these details:
Sound engine with excellent compression required

Minor frame surgery required

Small modifications to the top shelter substructure

Small trimming of the front fuel tank locating the tab

Front fender modification required for clearance

Existing throttle cables and choke cable must be shortened and new terminations installed

A second midpoint adjuster added to the "push" throttle cable

OEM junction plug removed from OEM cooling fan and transferred to the new fan's wires

Holes cut in timing belt covers for the crankshaft drive pulley

Slightly modified ignition advance specs

Later GL1000 ('78 / '79) "431" cams are used. These "softer" cams are actually better matched for supercharger duty and yield a better idle.
Ignition:
Custom Distributor
Pertronix Igniter II electronic ignition
Pertronix Rev Limiter
Pertronix 45,000 volt coil
Accel Wires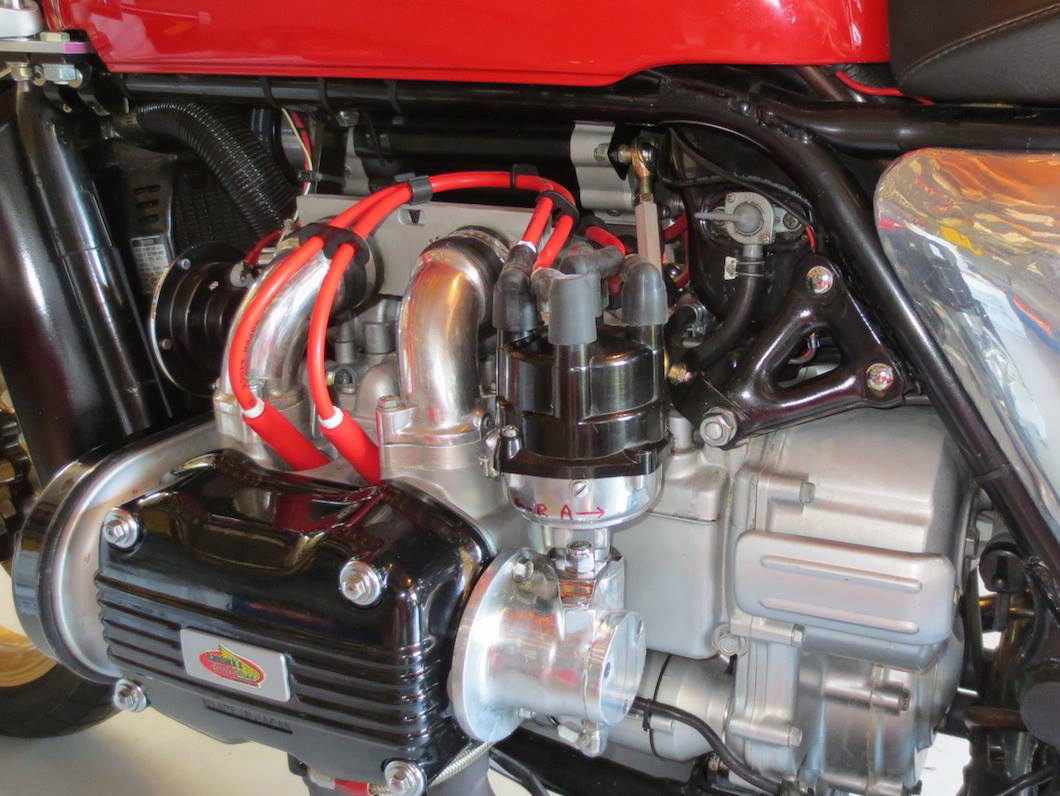 Other modifications:
Heavy-duty clutch upgrade

Braking, suspension and tire upgrades to handle the new level of performance. Like the mods detailed here:

"Later" driveshaft recommended for '75 GL1000s 
Key Links: 
https://www.youtube.com/watch?v=1pf7DL18RxA
https://www.randakks.com/randakk-s-carb-fuel-section/intake-clamps.html
https://www.randakks.com/standard-oil-filter-conversion-kit-version-a-see-fitment-chart.html
https://www.randakks.com/oil-filter-conversion-kit-for-use-with-remote-oil-cooler.html
https://www.randakks.com/randakk-s-wheel-and-brake.html
If you want to find the best selection online for motorcycle parts, visit our stores below:
www.DimeCityCycles.com | www.Z1Enterprises.com | www.Randakks.com | www.MikesXS.net