Randakk's CB1123F Cafe Racer!
Extensive "Build" Photo Album (200+ photos)
This bike was built for me by J.R. Luksik of CBX-tras with assistance from Ken Sperry, Rosey Lackey, Jr., Al Bergler, Jim Sawtell, Dennis Parrish and many others.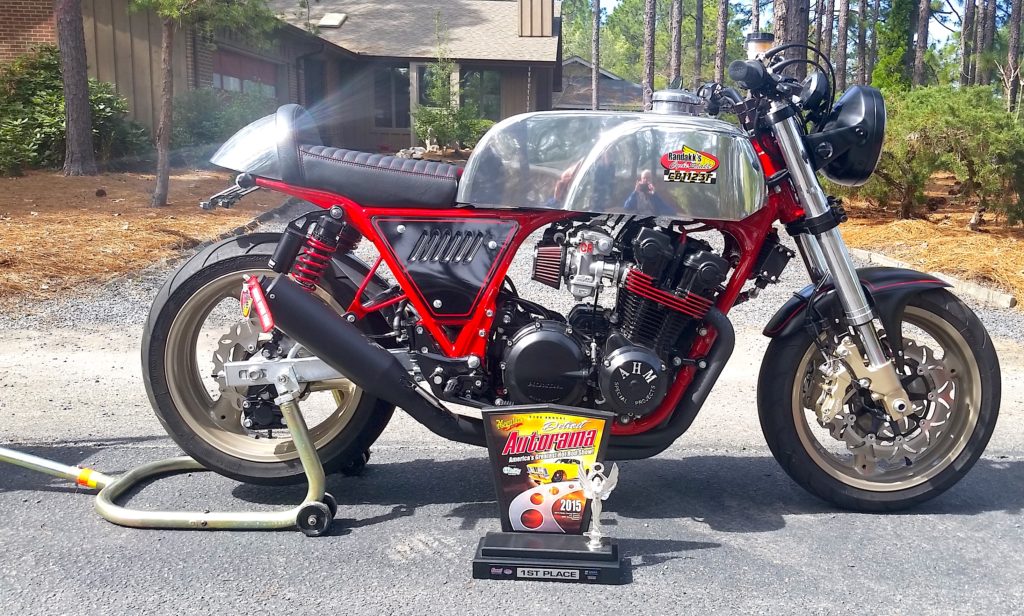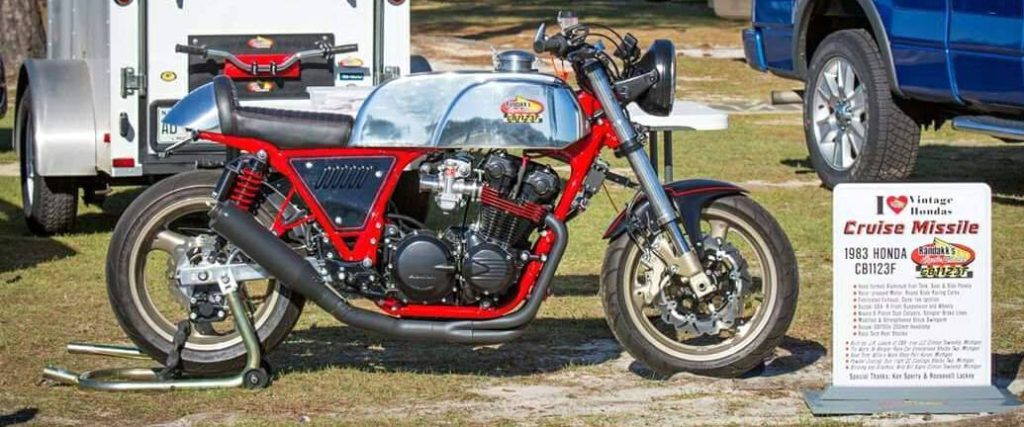 This bike represents my vision for a proper cafe racer. Great looks combined with race-bike performance capabilities. Inspired by my involvement in AHRMA vintage road racing – this bike has it all: handling, performance and comfort. In the hands of a skilled rider, this bike is a track day and twisty road demon.
All-out speed was not the goal. Instead, I aimed for a balanced performance combination that would deliver an engaging riding experience for a skilled rider.
I attempted to avoid going overboard on this bike, but I failed miserably! :). The main focus is on function – not fussy attention to finish details. However, I happen think it looks great…very purposeful.
Interesting Build Details:
Starting point – stock '83 CB1100F

Hand-formed Aluminum Tank, Tail and Side Panels by Al Bergler

Custom leather seat by Willy's Work Shop

Powder and Ceramic Coating by QC Coatings

Fabricated exhaust with 

Jim Sawtell

 

muffler

 

can

Race-preppped engine with Big Bore kit

(1123cc)

Vince & Hyde Racing Cam Chain Tensioner Upgrades

Banded clutch basket

Starter clutch upgrade (from Yamaha R1)

Setrab oil cooler

Suzuki GSX-R 1100 front suspension

Nissin 6-piston front calipers (new)

Modified and braced rear swing arm

Custom Race-Tech Rear Shocks

Prototype Steering damper

CR Round-Slide Race Carbs

Speigler Stainless steel braided brake lines

Dynatek 2000 programmable ignition

V-rated tires

CRG Supersport Clutch Lever

CRG Hindsight / LS Mirror

Suzuki 200mm headlight

JES-Built AHM-style crank end covers
JES-Built frame gussets

Koso electronic instrument cluster

Stewart Warner mechanical oil pressure gauge

Graphics by Wild Bill and Associates
Randakk High Performance Intake Clamps
Randakk Standard Oil Filter Conversion Kit to allow "spin-on" filter
Randakk High Performance Fuel Filters (2 used)
Randakk GEN II Amazing Grips
Special thanks to J.R. Luksik of CBX-tras for a masterful creation that is a joy to ride!
Please Read: Disclaimers