Don't let this minor disaster ruin an otherwise perfect carb body!
This Tech Tip is published at The Motorcycle Project …created by vintage Honda wizard Mike Nixon.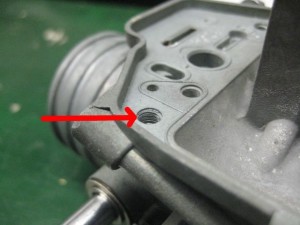 Photo Courtesy of Mike Nixon. All rights reserved.
The threads that retain the float bowls on vintage Honda carburetors are easily ruined by careless mechanics. I get many inquiries about the best way to recover from this calamity.
My preferred method is to use Time-Serts. I find that in this small size (4mm), Time-Serts are superior to Heli-Coils or similar methods.
In fact, I've intended for quite a while to write a comprehensive Tech Tech explaining how I do this repair. But, my good friend Nike Nixon beat me to the punch with an outstanding write-up!
If you follow Mike's excellent instructions, this is a once-and-done lifetime repair. Highly recommended!
How-to article:
Carburetor Thread Repair by Mike Nixon
Remember also – the float bowl gasket does the work of sealing fuel inside the bowl! If you are using high quality float bowl gaskets (like the ones I sell), only minimal torque is needed on these screws.