I get lots of emails like this one: 
"I purchased four "Napco Carb rebuild Kits" in addition to some parts from you like plenum seals, etc. I probably should have purchased your Master Kit. Anyway, 2 of the Napco float valves would not seat properly resulting in a lot of frustrating problems. With your recommendation, I cleaned and put the original Honda float valves back into the carbs. Problem Solved. Thanks!"Lee Korb – Raleigh, NC
Failed Aftermarket Float Valve

Photo courtesy Mike Nixon. All Rights Reserved 
As you probably know, I'm not a big fan of aftermarket float valves. There have many problems with these in the past. I'm aware af many, many cases of carb problems that were cured by "biting the bullet" and replacing freshly installed aftermarket float valves with the proper OEM item.
As of this writing, Honda still stocks the OEM float valve sets for the GL1000.
The original part number is: 16011-371-004 "VALVE SET, FLOAT"
A superseded part number is: 16011-371-305 "VALVE SET, FLOAT"
Latest superseded part number is: 16011-371-014 "VALVE SET, FLOAT"
(There is no worry about getting the wrong part from Honda. Their system will always supply the correct superseded part regardless of what you request.)
If you don't know the prior history of your carbs, identify the status of your current float valves. OEM seats have Keihin logo marks and a "1.0" flow rating mark…otherwise, they are aftermarket
One nice thing about the OEM float valve set from Honda is that it also includes the inlet screen, which is not provided with any aftermarket GL1000 float valves. Despite a rather notorious reputation for dubious quality, Keyster, K&L NAPCO and other aftermarket float valves are mostly fine these days I believe. However, it is critical that any aftermarket float valve that you might use must have a valve "pin" that measures at least 11.8 mm from rubber point to un-compressed, spring-loaded tip. This assumes you are using the aftermarket float pin with a float seat which has the same vertical aspect dimension as the OEM float seat.
In the past, problems arose with bad batches of aftermarket float sets which had valve needles that were too short. These were either manufacturing errors or packaging mistakes. In these cases, no matter how high you set the floats, the valves would never close completely. Flooding was inevitable.
Aftermarket float seats are also fine so long as they are dimensionally equivalent to the stock part.
There is still some risk if you purchase aftermarket float sets that you will receive merchandise from these prior bad lots.
Just to be safe, no matter what combination of float seat / float pin parts you use, you need to make one more check. There should be nominal clearance between the outer "shoulder" of the float seat and the pin valve spring "clip" when the rubber tip is resting on the bottom of the seat with no pressure other than gravity. The "clip" is the wire retainer that surrounds the float "tang." Make this check with the carbs upside down on your bench. I don't actually measure this, I just eyeball to make sure there is some visual clearance. A bit of clearance is good…no clearance is very bad!
If the aftermarket float pin is too short and / or the aftermarket float valve seat is too thick, the "clip" will bottom on seat shoulder before the rubber tip can do its job of controlling the fuel flow. I make this visual check on all carbs I re-do. I've never found a problem of this nature with OEM parts but you never know when there might be a packaging mix up or the like.
Here's a new problem to worry about if your decide to go the aftermarket route: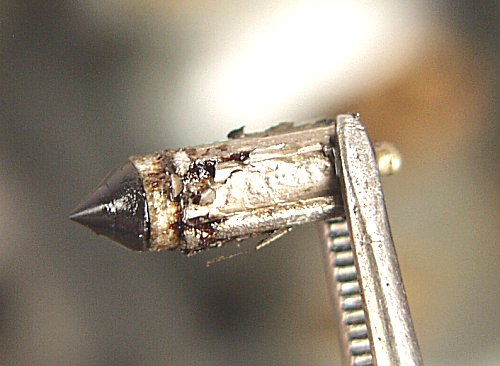 Failed Aftermarket Float Valve
Photo courtesy Mike Nixon. All Rights Reserved 
 Mike Nixon – noted CBX and vintage Honda guru says:
"I don't arbitrarily replace parts, only what is needed. The factory float valves often last longer than the motorcycle. They're also expensive. But, I will not use aftermarket float valves, and here is why. That's chrome plating that is coming off this aftermarket float valve. The factory ones never do that."
The photo speaks for itself. I happen to agree with Mike 100% on this issue. During your rebuild, inspect, clean and re-use the OEM float valves. If you decide that they need replacement for any reason, spring for the OEM float sets.
If you decide to ignore my advice on this topic, consider these risks and the value of your time and energy. Doing a task twice is never fun.
Warning: There are some aftermarket carb kits in the market that insinuate that they include genuine Honda float valve / seat assemblies. This disingenuous claim is highly dubious. Unless you receive these float sets in a sealed Honda package with a Honda part number, you are not being supplied with genuine Honda merchandise