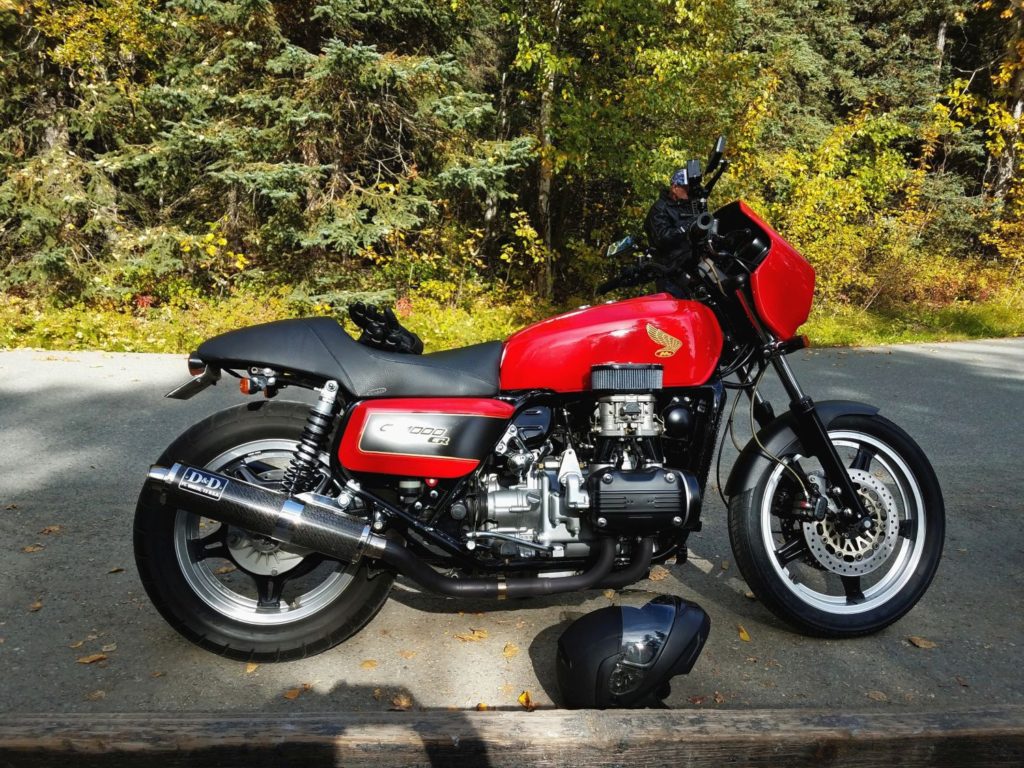 "I am totally in love with this bike after completing the build about 5 years ago. It's a blast to ride and handles the twistys like no GL1000 was ever expected to. The power increase from the 40mm Webers, the sound from the carbon fiber exhaust, the great braking all add to the experience. How well it takes the curves, was really a big surprise to me. I've been to the other side of 100mph (please don't tell my wife) more times than I can count, and it's rock stable at that speed.
I've received many compliments on the bike, with some asking what is it? I have to say, I've been tempted to tell people that I stuffed an old Porsche motor in there. Thing is, they would probably believe me, so I don't.
I have to thank Randall Washington at Randakks for being my inspiration to take on this build in the 1st place. It puts a smile on my face every time I ride it and makes this old, gray-haired 69 y.o. Alaskan, feel much younger than I have a right to."
Mods:
– Randakks intake manifolds using 40mm Weber downdraft carbs along w/ his electric fuel pump conversion. Were it not for   Randakks comprehensive installation and set-up instructions, I would never have attempted to do all this.
– 1975 GL1000 tank shelter. I never liked the pod mounted gauges and there is enough space for the air filters w/o making clearance modifications. I also relocated the voltmeter and water temp gauges to the glove box panel. Still using the stock speedo and tach gauges.
– 1984 Honda CB1100F headlight fairing.
– Corbin Gunfighter seat
– D&D carbon fiber mufflers w/ aftermarket headers of unknown origin.
– Fisher front brake conversion kit. These brakes are fantastic and transform the bike's stopping abilities over the stock anchors.
– Stock rear brake caliper w/ Ferodo pads front and rear.
– Works Performance shocks on the rear w/ Progressive fork springs up front.
– Airtech front fender.