This custom exhaust system is currently out of production. Contact – Hank Thibodeau for more details.
For my exclusive Master Carb Overhaul Kits and other items…click here

Honda GL1000 4-into-4 Megaphone Exhaust System by Widowmaker
Features:
Custom fabricated by my friend and fabricator extraordinaire – Hank Thibodeau.
Removable baffles.
Complete with proprietary headers constructed with heavy gauge tubing and laser cut flanges.
Sidestand and centerstand use is retained.
Unlike the OEM system, each side can be removed independently.
Headers are ceramic coated (inside and out) for long life and beneficial scavenging effect.
Individual, high quality, detachable mufflers.
Mufflers are made of heavy 16 gauge material.
Mounting hardware and instructions included.
Exhaust header to cylinder head crush gaskets included.
Details:
The system is quite loud! Sounds like a cross between a small block Chevy and a very angry Porsche!
The prototype shown is mounted onto a bike that has frame modifications which influenced the design of the rear support bracket on that unique bike. Production models have a different rear support system. No frame modifications are required.
Centerstand will "ride" approximately 1″ lower than normal. You may wish to remove the centerstand for best appearance and maximum cornering clearance.
Designed for Honda GL1000 only (all years). Will not fit Honda GL1100 models.
Important Order Details:
This is a limited production Widowmaker product.
Contact Widowmaker directly for current pricing and availability
Allow 6-8 weeks for delivery.
Each system is custom made for each customer.
Each system is test fit onto an actual GL1000 during construction to insure proper fit.
To order, contact:
Widowmaker Custom Design and Repair
5582 Mt Harmony Church Rd.
Rougemont, NC 27572
(919) 618 – 7202 or
(336) 364 – 8535
website: Widowmaker Custom Design and Repair
email: nitetrain74@earthlink.net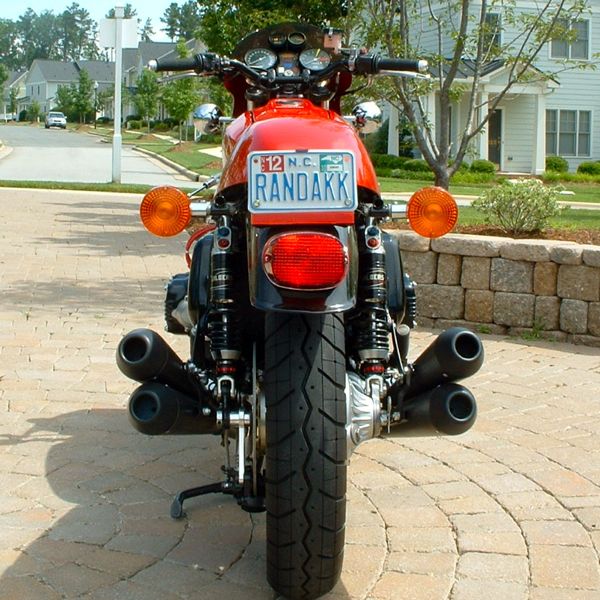 Honda GL1000 4-into-4 Megaphone Exhaust System by Widowmaker