You might consider this item: GL1200 Carburetor Repair Manual written by Howard Halasz
This Tech Tip is provided courtesy of Howard Halasz – noted early 'Wing Guru. Howard is a frequent contributor of technical columns and other information to GWRRA's Wing World Magazine.
It is very important that the hose routing and connections at the bottom side of the GL1200 carburetor assembly should be as follows:
1. Vacuum hose from #4 intake pipe connects to plastic tee and to vacuum ports at air cutoff valve and anti-afterburn valve.
2. Vacuum hose at #4 carburetor vacuum port is routed toward front of carburetor assembly, then up to tee fitting near the electronic ignition module.
3. Large slow air supply lines should be routed from air cutoff valve to slow air pipes between carburetors 1-3 and 2-4. See FIGURE 1 below.
FIGURE 1
It is also very important to label the ends of all vacuum hoses when you remove them from the carburetor assembly so that you will remember where they connect when it is time to reassemble your carburetor assembly. See FIGURE 2 below.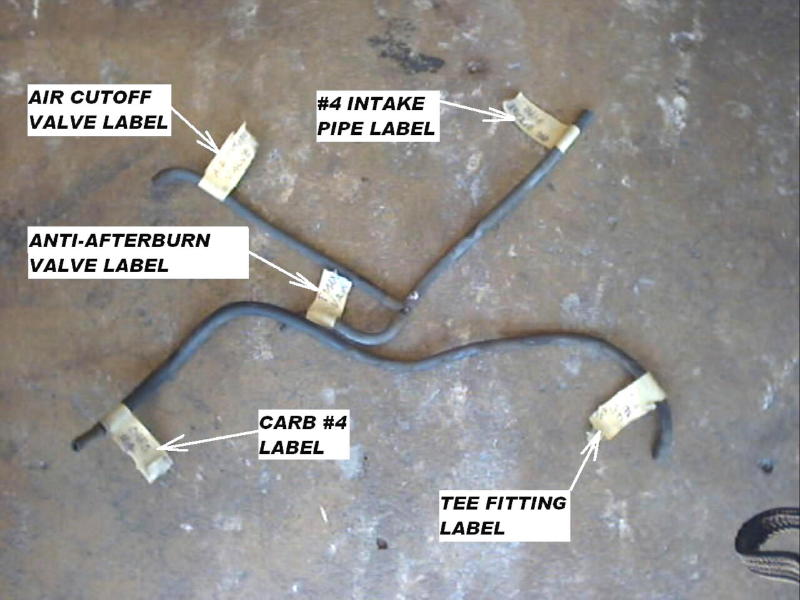 FIGURE 2 
Howard Halasz, Wing World Technical Contributor – Houston, TX