Dyno Results for Randakk's Dual Weber 40 IDF Manifolds for Honda GL1000 / GL1100

As installed and tested on RC003
Dyno Results:
On October 12-13, 2006 dyno runs were conducted at Ray Price Harley-Davidson in Raleigh, NC. Ray Price has one of the top dyno rooms in the country. No surprise, since Ray Price himself is one of the best Top Fuel drag racers in the country.
Jason Clement and Bruce Downs of Ray Price Harley conducted these tests for me.  See:  Ray Price Harley for more information about this great Harley dealer.
I predicted 5-8 horsepower gain, so it looks like my butt is fairly well calibrated! Here are the dyno results for the Dual Weber set-up:
 Max Horsepower: +8.25 horsepower gained! (+13.8%)
Max Torque: +3.04 foot-pounds of torque gained! (+6.2%)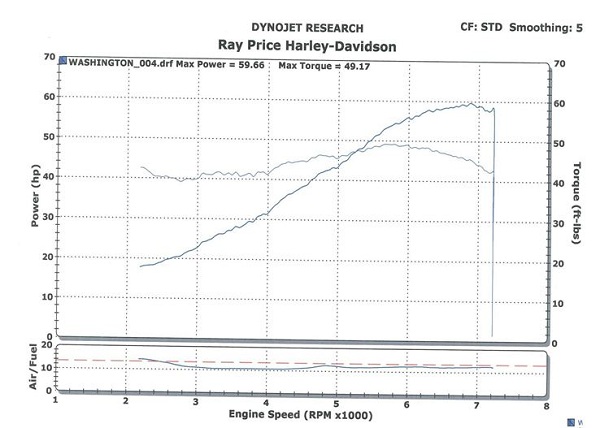 *WASHINGTON__004.drf-10/12/2006 3:06:33 PM Run Type: RO Run Conditions: 84.04 degrees F, 29.30 in.-Hg, Humidity: 12%, STD:1.03
RANDALL
Max Power = 59.66 Max Torque = 49.17
BASELINE RUN
Dyno Results: Dual Weber 40 IDF Carbs (ABOVE)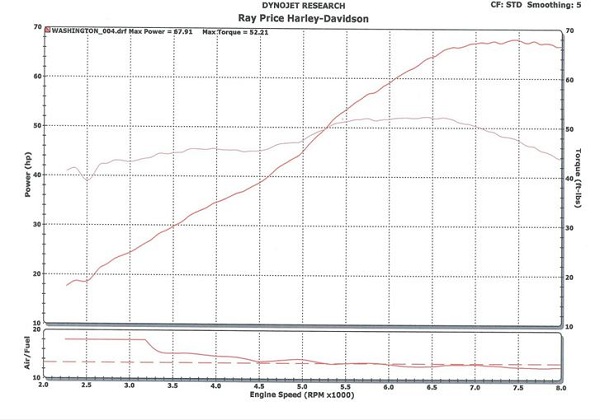 **WASHINGTON_004.drf – 10/13/2006 10:47:37 AM Run Type: RO Run Conditions: 69.50 degrees F, 29.50 in-Hg, Humidty: 7%, STD: 1.01
RANDALL
Max Power = 67.91 Max Torque = 52.21
WEBER CARBS, BASELINE RUN
Dyno Results: Dual Weber 40 IDF Carbs (ABOVE)
All these results are relative to the very excellent set of stock GL1000 carbs in razor sharp tune previously on the test bike (RC003). The OEM Honda carbs were essentially stock. I had previously implemented the "off idle" fix detailed here and I had also balanced the CV slides to within 0.1 gram each on the stock carbs. They were perfectly synchronized.
As predicted, there was no decrease in torque at any point across the rpm range with the Webers.
Keep in mind that dynos are notoriously variable from one to the next. Absolute values are not very meaningful…only comparative runs on the same dyno will tell you much. Honda was shy about publishing horsepower results for the GL1000, but most magazines at the time pegged it at about 80 hp at the crank. Keep it mind that on a shaft drive bike, parasitic losses in the drivetrain result in 20-25% loss of horsepower from the crank to the back wheel.
If you look at the charts, both set-ups show torque curves that are VERY FLAT and horsepower curve that are VERY LINEAR. This explains the great road manners for a well-tuned GL1000 with excellent performing OEM carbs. I'm very impressed with the results that the Honda engineers came up with on this engine / carb combination!
Air/ Fuel mixtures for both setups were very consistent and near optimal across the entire rpm range as well. The apparent over-lean anomaly at low rpm is due to the less than optimal placement of the air-fuel mixture probe necessary because the mufflers have internal baffles that limit placement of the probe in the ideal position.
The Weber setup showed dramatic improvement across the entire rpm range in both torque and horsepower. Interestingly, there is an especially significant positive improvement in torque on the Weber setup from 3,000 – 4,000…the spot were most cruising is done. This "sweet spot" explains part of the very satisfying seat-of-the-pants boost you can feel with this setup.
Needless to say, I'm thrilled with these results.
To purchase a set of these Weber manifolds… click here.