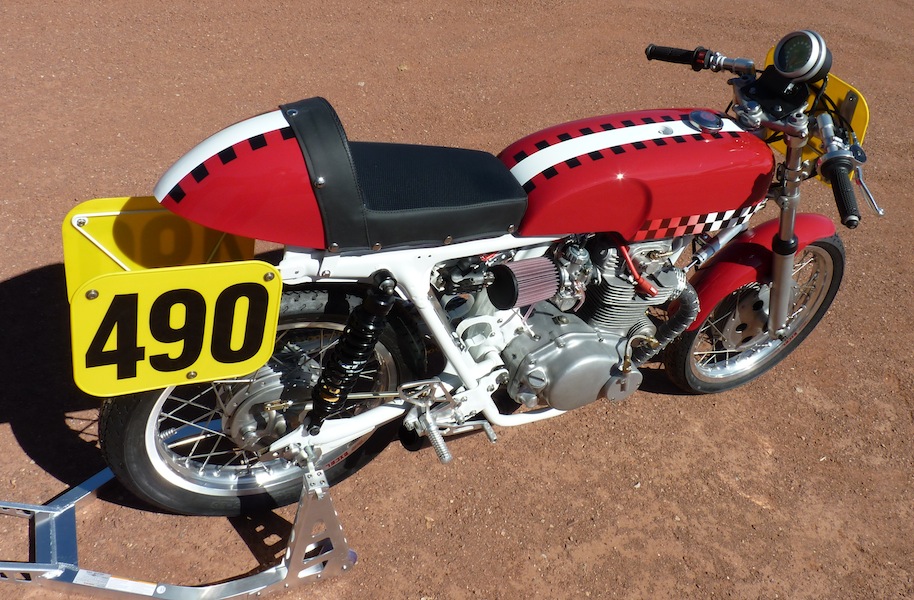 1972 Honda CL350 – AHRMA 350 Sportsman Class
Note dated January 26, 2015 – This bike is now owned by a collector in the Pacific Northwest.
Retired after a very successful 2013 racing campaign. 
Finished 3rd Nationally in 2013 AHRMA 350 Sportsman class. 
Won 19 of 19 races in the SMRI series – Albuquerque, NM.  Won several SMRI class championships.
See full Competition Results.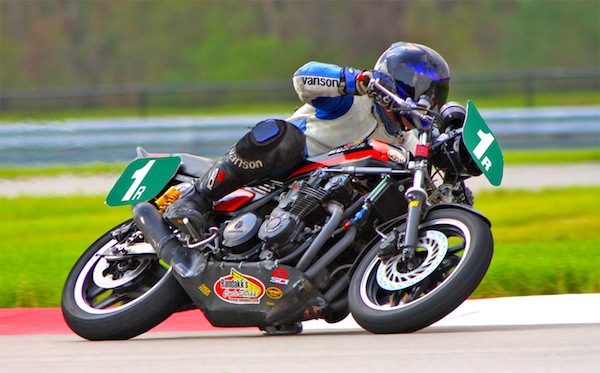 Main Rider: Dennis Parrish – AHRMA Formula Vintage Champ!
Post-Apocalyptic Backup Rider: Randakk – No Discernible Racer Cred!
Bike
Frame
Honda CL350 (high pipe, street-bike) was selected as the basis for this build. The frame (merely spot-welded at the factory) was "fully" welded during our build. All joints, attachments, pressings, perimeters, etc. were completely welded together for maximum rigidity.  Extraneous brackets were removed.  The steering head bearings were replaced with tapered roller bearings (All-Balls).  Swing-arm is stock.  Paint is urethane single-stage (no clear coat).
Wheels
Excel aluminum rims, both 18" with 1.85 on the front and 2.15" on the rear.  Buchanan's Spoke & Rim custom-drilled them for this application. The front is laced to an XS-650 Yamaha dual-leading shoe from their first-generation 650 twin and the rear to a stock Honda CL350 hub.  Spokes and nipples are stainless steel, also from Buchanan's.  Dennis Parrish laced and trued both wheels.
Tires
Tires are English Dunlop bias-ply treaded tires constructed with modern medium or medium-soft racing rubber.  Tubes, naturally.
Brakes
Front brake was extensively tweaked by Vintage Brake. They did all their magic turning, backplate service and brake shoe matching magic to build these serious binders.  Front has Ferodo shoes.  Rear is NOS Honda CL350.
Suspension
Many thanks to Race Tech for their help, support, design & guidance.  Front forks are 1981 35mm Yamaha 650 twin with Gold Valve emulators and 80kg/m fork springs.  SL350 Honda triple clamps are used for the (larger) 35mm fork size.  Rear shocks are custom, fully adjustable Race Tech shocks.  They did the math based on the build sheet dimensions and superbly constructed them. Steering damper by Shindy Daytona.
Bars
Tommaselli fully adjustable clip-ons with Randakk's Amazing Grips.
Chain/Sprockets
Regina 530RT Chain and sprockets (36 & 34).  Sprocket Specialties did the 33 aluminum sprocket (required for fast tracks like Willow Springs, Road America and Daytona) and Parts Unlimited contributed the 15-18 tooth countershaft sprockets.  The chain is non o-ring so it has less rotational friction and lower parasitic power losses to the rear wheel.
Bodywork
Airtech front fender (H2R Kawasaki model). Tank is courtesy of Omar's and the seat was sourced from HotWing Glass.  Belly-pan (required by class rules) was fabricated by Dennis Parrish.
Instrumentation
Electronic tach by Autometer.
Pegs
Pegs, foot pedals and mounts were adapted and re-purposed from Vortex rearsets originally intended for a 2004 era Kawasaki ZX-10.
Engine
Most internal parts are from Bore-Tech.  Racing Cam is from Megacycle along with their valves springs & lighter retainers.  New guides were installed.  A big bore, high compression piston kit from Bore-Tech was installed.  Stock crank (roller bearings).  Cappellini needle bearing / overhead oiling / oil filter setup to eliminate running the hardened cam in plain aluminum carriers. Cappellini supplied the trick oil cooler as well.  Degreed the cam according to Megacycle specs. Ignition is electronic and run off the crank versus the cam end.  Stock Honda clutch and gearset.
Fuel System
32mm Mikuni carbs sourced from SUDCO mounted on Bore-tech intakes with K&N Filters. Intake step-less clamps sourced from Randakk.  Also run Randakk's Amazing Fuel Filter.
Exhaust System
Custom 2-into-1 header with prototype muffler by JES-BUILT. Billet exhaust header collars by Cappellini.
Design
Shasta Smith: www.TheVintageMonkey.com
Graphics
Tapeworks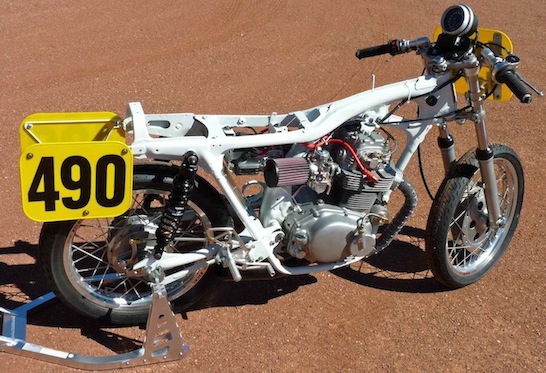 Finished Bike sans Bodywork
Sponsors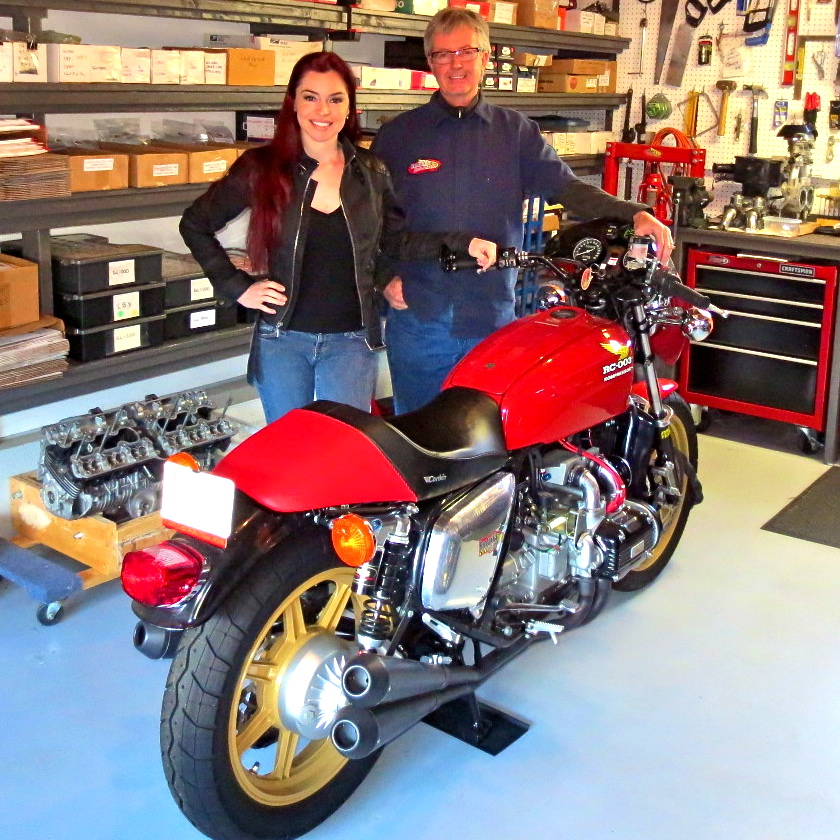 Randakk's Cycle Shakk  www.randakks.com
The Vintage Monkey – by Shasta Smith: www.TheVintageMonkey.com
For more information:
Randall Washington – Randakk's Cycle Shakk, LLC