Important Announcement – January 8, 2014
Become a fan and follow the race season here:  Randakk's Cycle Shakk for Vintage Honda Motorcycle Enthusiasts 
Follow Hanni Berger's Rookie AHRMA Season!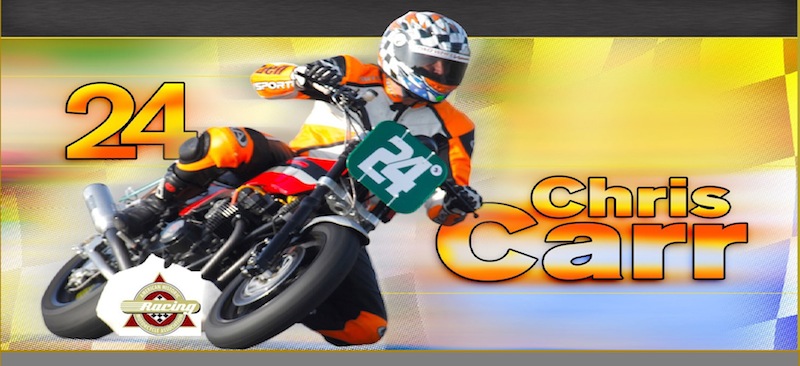 Randakk-sponsored Chris Carr – AHRMA National Champion
I'm very pleased that Randakk's Cycle Shakk has formed a new partnership with ace road-racer Chris Carr of Atlanta, GA as my competition partner for 2014.
Read entertaining BLOG Reports by Chris posted after each race!
On a related note – Randakk's Cycle Shakk is now the class sponsor for AHRMA's Vintage Superbike Lightweight class.  This great class attract large fields of very talented riders and some amazing machinery.  Come out and watch the amazing skill and grit these riders routinely display!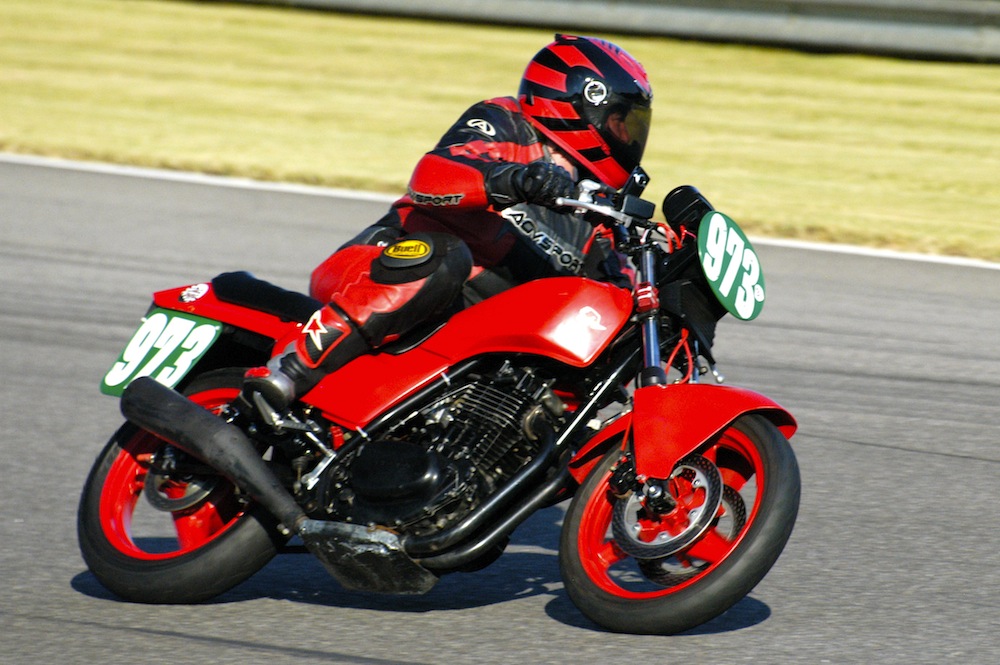 Honda FT500 with 2011 class champ Becky Baker aboard at Barber
AHRMA Season Schedule
2014 Dates
Location
Event
2/28 – 3/2
Roebling Road Raceway

Bloomingdale, GA

National event with AHRMA

Randakk attended

3/28 – 3/30
NOLA Motorsports Park

Avondale, LA

National event with AHRMA

Randakk attended

4/25 – 4/27
Willow Springs Int'l Raceway

Rosamond, CA

National event with AHRMA
5/1 – 5/2
Sonoma Raceway (Sears Point)

Sonoma, CA

National event with AHRMA
6/7 – 6/8
Road America

Elkhart Lake, WI

National event with AHRMA
6/14 – 6/15
Grattan Raceway Park

Belding, MI

National event with AHRMA
7/11 – 7/13
New Jersey Motorsports Park

Millville, NJ

National event with AHRMA
8/29 – 8/31
Miller Motorsports Park

Tooele, UT

National event with AHRMA
10/9 – 10/12
Barber Motorsports Park

Leeds, AL

National event with AHRMA


Randakk will attend

10/17 – 10/19
Daytona International Speedway

Daytona Beach, FL

National event with AHRMA
About Chris Carr:  Chris has been actively engaged in motorcycle training and education through his business Two Wheel Adventures since 2001. Chris is an MSF instructor who has also been trained as a DBS dirtbike and ATV coach. He also served on the American Honda Demo Team. Chris' programs have educated more than 6000 riders in the Atlanta area. Carr is a popular motorcycle blogger and also hosts a radio show about motorcycles every Tuesday night from 7pm to 8pm on the Garage 71 Channel.
More about Chris Carr and Two Wheel Adventures
About AHRMA: The American Historic Racing Motorcycle Association Ltd. is a not-for-profit organization dedicated to restoring and competing on classic motorcycles. With about 4000 members, AHRMA is the largest vintage racing group in North America and one of the biggest in the world. The association has grown steadily over the years, reflecting the growing interest in classic bikes.