My recommendation for Honda GL1000 timing belts is simple: It you can't verify their age – change them! Thereafter, my recommendation is to change them every 5 years or 25,000 miles…whichever comes sooner. Obviously, they should be inspected from time to time for any evidence of damage, oil contamination or deterioration which would warrant immediate replacement.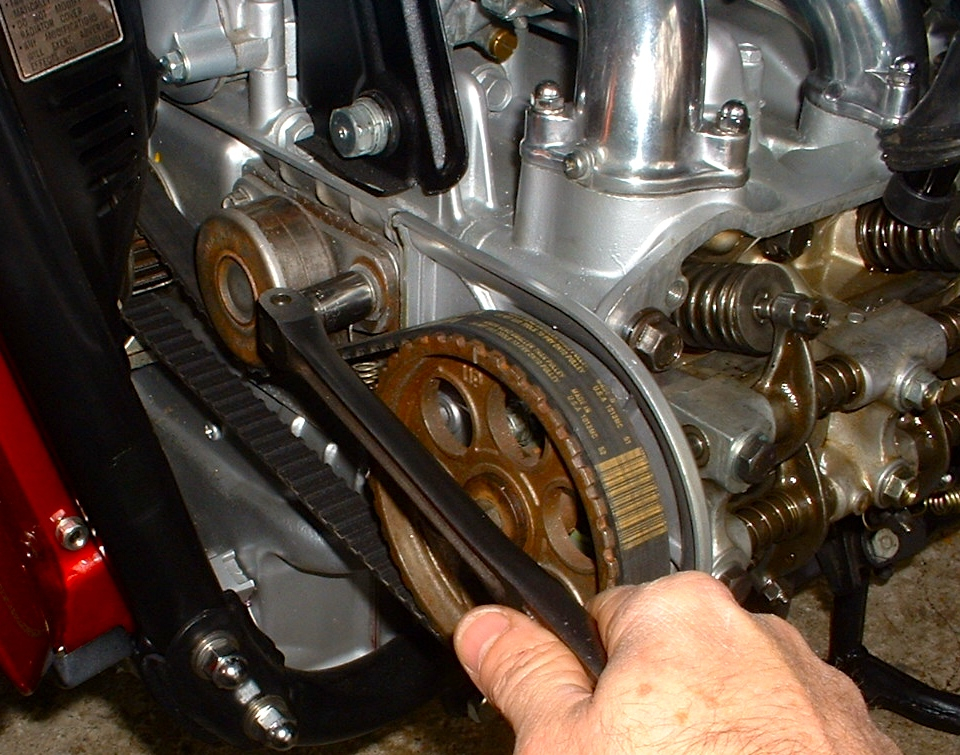 If you saw GWRRA's Wing World magazine's June 2006 issue you might have seen a letter to the Workbench column about GL1000 timing belts. The writer kindly referenced me as a "well-known wizard on the GL1000" and mentioned my timing belt change interval recommendation. I doubt that I'm worthy of the credential bestowed upon me by the writer of that letter!
In any case, Stu Oltman, GWRRA's Senior Technical Editor, took exception with my timing belt change interval advice. Stu is a very knowledgeable fellow and I have great respect for his expertise. He correctly points out that oil contamination and incorrect installation can shorten the cam belt life considerably. In the separate article (same issue) on the '75 restoration that he did for the GWRRA corporate office, he admits (page 43) that he doesn't have much experience with the Gen I bikes. So, when he characterizes my 5 years / 25,000 miles service interval as "severe overkill," I find that very interesting information and respectfully disagree.
I stand by my recommendation based on my own experience. Unfortunately, cam belt failure is not an "extremely rare occurrence" as suggested. I have seen the carnage this can cause many times! My recommendation is for GL1000 models only. I defer to others on GL1100s, GL1200s, and GL1500s. I suspect you can go a bit longer on the belts on the later models because they have lower redlines.
The normal automobile recommendation for 4 cylinder cars is typically 5 years or 60,000 miles. I submit that the GL1000 engine puts more stress on its belts than a typical car does (via higher performance cams and much higher redline.) There is no definitive, non-contradictory recommendation from Honda regarding GL1000 cam belt interval. I'm quite happy with the conservative recommendation I make. In any case, belts are cheap compared to bent valves (and worse).
When you decide to change your belts, these aftermarket belts are suitable replacements at a lower cost than the OEM Honda belts:
Gates #T274
NAPA #250274
Goodyear Gatorback #40274 (available at AutoZone and others)
Randakk's also offers excellent replacement timing belts.
There are excellent step-by-step description with pictures on how to change the timing belts on the Naked GoldWings Forum
Search in the ShopTalk area then select this thread by Octane in the Timing Belt section.
I recommend free registration with the Naked GoldWings Forum to access the complete wealth of specialized information available via that site!
This information is courtesy of Lars Nielsen, aka "Octane" – Denmark. Lars is an internationally famous GL1000 enthusiast and prominent technical contributor to Naked GoldWings Forum Thanks, Lars!
Tip: contrary to most advice, it is not necessary to remove the radiator and hoses when replacing the timing belts if you have access to this handy tool!
Tip: always adjust final belt tension with the engine fully WARMED from 20 minute+ rides. Per above – always let the springs do the work…don't "help" them any.
Boxer engines "grow" due to thermal expansion and you will over-tighten cam belts, shorten their life and cause whine if you don't accommodate these physics. On a GL1000, the incorrect belt tension will also corrupt ignition timing since the timing apparatus is driven off the left cam, not the crank as in later engines. Thus, belt tension has to be perfect BEFORE you mess with ignition timing. In my experience, many timing belt tensioners are needlessly replaced to correct "whine" cause by improperly tensioned belts.
Key Links: 
https://www.randakks.com/randakks-honda-gl1000-gl1100-cam-belt-cover-tool.html
https://www.randakks.com/timing-belt-gl1000-1100.html
If you want to find the best selection online for motorcycle parts, visit our stores below:
www.DimeCityCycles.com | www.Z1Enterprises.com | www.Randakks.com | www.MikesXS.net