All of the ordinary round orings and many other components in Randakk's Master Carb Overhaul Kits® are made of genuine Viton®. In fact, every oring we've ever shipped has been made of Viton®!
There are actually many "grades" of fluorinated synthetic rubber like Viton®. Randakk's uses the same spec material that Mercedes and Toyota use in fuel system components that are subjected to the oxygenated "gasoline" marketed in North America.
Plus – through proprietary molds and other tooling assets, we make many other Viton® components ourselves via our own exclusive manufacturing arrangements. The proprietary components made in Randakk's molds are not available elsewhere.
For diaphragm items such as accelerator pumps and air cut-off valves, we have direct and exclusive sourcing arrangements with superior production partners that by-pass normal trade distribution channels. This allows Randakk's to impose unique-to-Randakk's product specifications. 
Why is this important? Read on.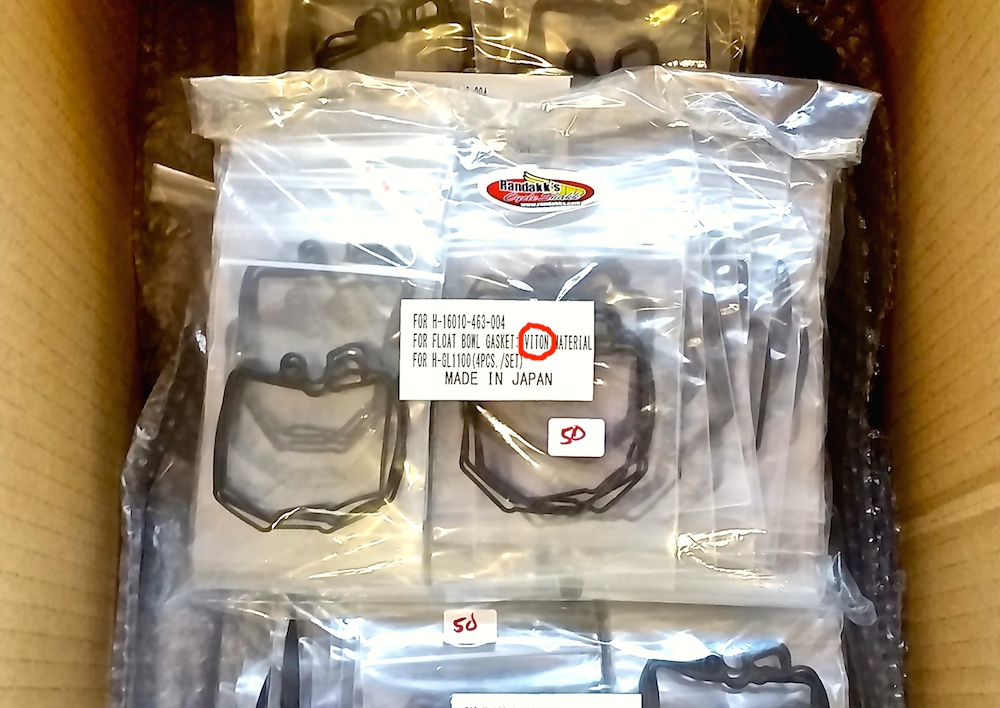 Randakk's Viton Float Bowl Gaskets
Viton® is a superior brand of flourinated synthetic rubber that provides the best defense against the exotic oxygenating agents and other "stuff" in the modern fuel nefariously marketed as "gasoline" …not to mention ethanol. Absent sophisticated testing, it is virutually impossible to determine what an oring is made of. You certainly can't tell by a visual examination.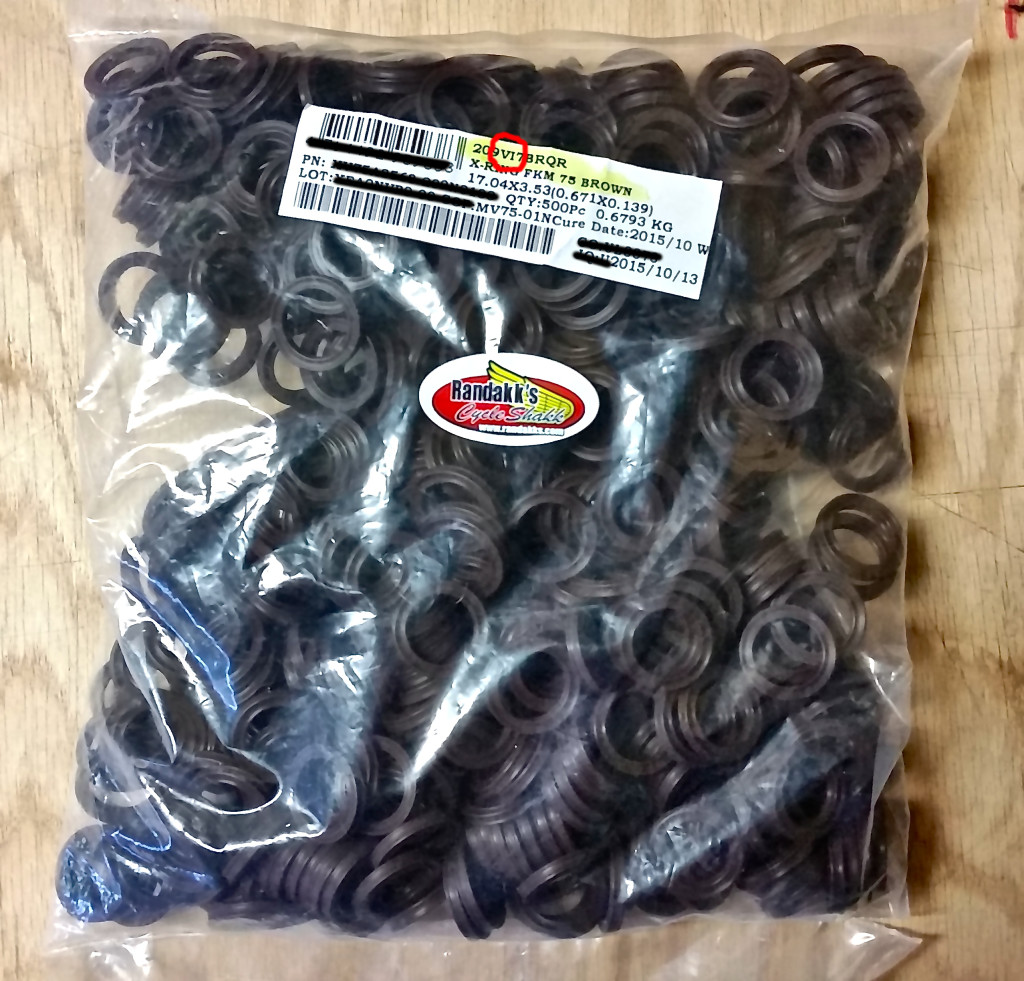 Viton Seals for Randakk's High Performance Fuel Filters
Viton® can cost up to 4 times what ordinary nitrile orings cost. I would not incur this additional expense if I did not think it was beneficial for my customers.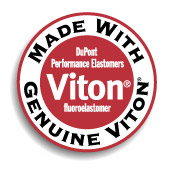 Viton® is superior to nitrile in terms of:
Heat tolerance (typically: 400 degrees F max vs. 250 degrees F max for nitrile)

Compression set

Permeation

Resistance to various chemicals
Don't believe Randakk? Then consider this evidence from Oak Ridge National Laboratory – Department of Energy.
Also, did you know that one good case of severe engine overheating can ruin the carb o-rings found in ordinary kits? Our o-rings are the best available.
Important fact: there are various grades of Viton® depending on the specific material, processes and handling utilized during the manufacturing of finished products. Randakk uses the highest-spec automotive grade of Viton® that is specifically engineered for fuel systems (same as Mercedes and Toyota).
Other vendors may claim to provide Viton®, but do they and what grade?
Here's proof that Randakk's orings are made of Viton®. Below is documentation from prior oring purchases. I've obscured a few details for obvious reasons. On each Packing List, notice the designation of VI-75 in every line item description as well as VI in each Line Part Number.
This indicates genuine Viton® 75 durometer orings!
There is a slow transition to these superior materials in the motorcycle aftermarket industry. Some suppliers are lagging on the adoption of these necessary compounds.
This is one of the unintended consequences as heavier reliance is made on ethanol to power our engines. Not to mention the the coming "taco wars" as food prices are driven higher!
Also, I avoid the temptation to use standard industrial o-rings that are "close" to the correct size. O-rings need to fit correctly to perform the intended function. That's why I spend extra to get the exact, custom sizes needed. I monitor and evaluate all the major aftermarket carb rebuild kits continuously as part of my normal business model. I am amazed at some of the components and sizing they issue.
What about Color?
Natural Viton® is brown in color.  Over time, we have gradually shifted most of our Viton® components over to natural brown.  Earlier, we used Viton® that was colored black during manufacturing.  Some individual oring sizes we ship are still black for that reason.
So if an oring is brown – that means it's Viton® right?  Not necessarily! Ordinary nitrile orings can also be colored during manufacturing to a brown color that mimics brown Viton. So, color is not a 100% reliable indicator for Viton®!
My view:  Providing superior Viton® in Randakk Master Carb Kits is a prudent, non-controversial business decision that benefits Randakk customers.  Some of my competitors disagree with me.  That's their prerogative.  As for me, I aim to look out for the interests of my customers and provide exceptional products. Viton® is a key ally in that mission.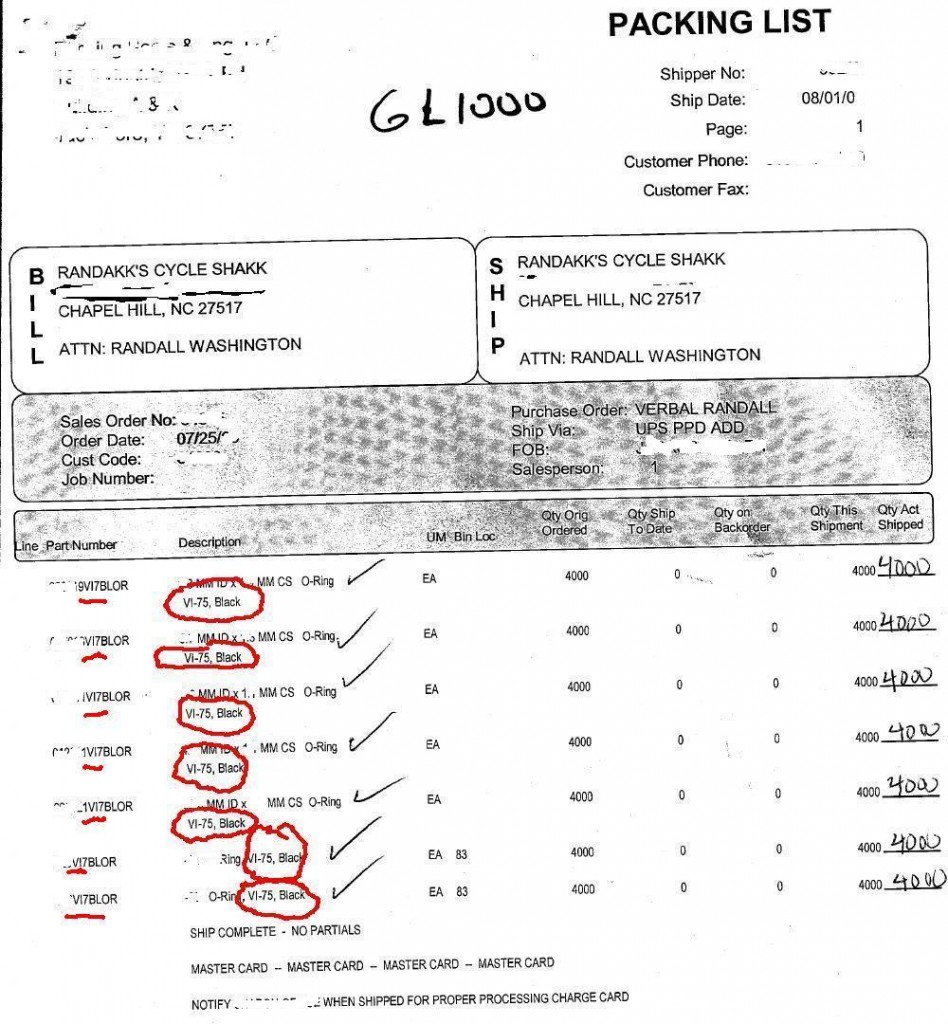 GL1000 Orings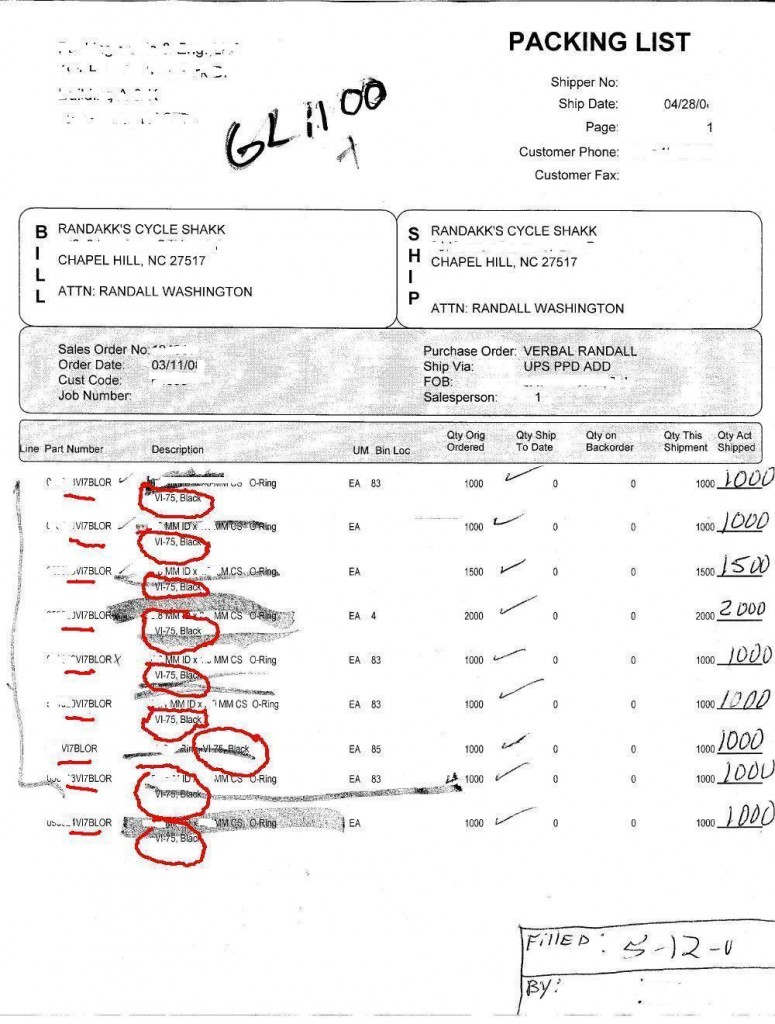 GL1100 Orings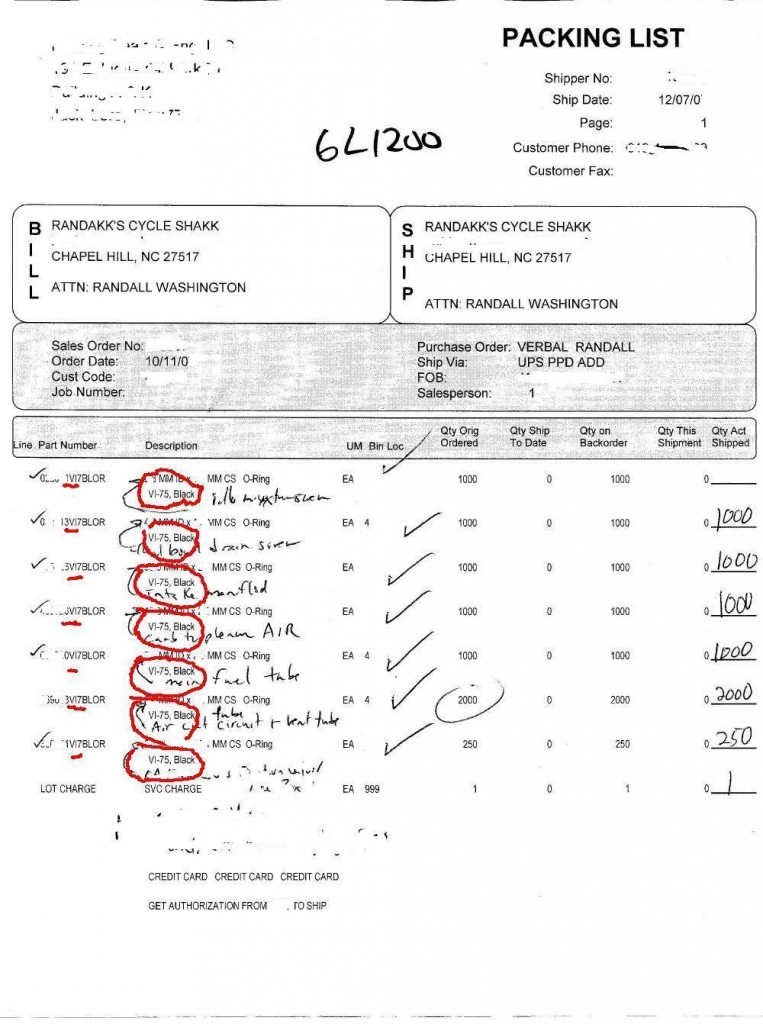 GL1200 Orings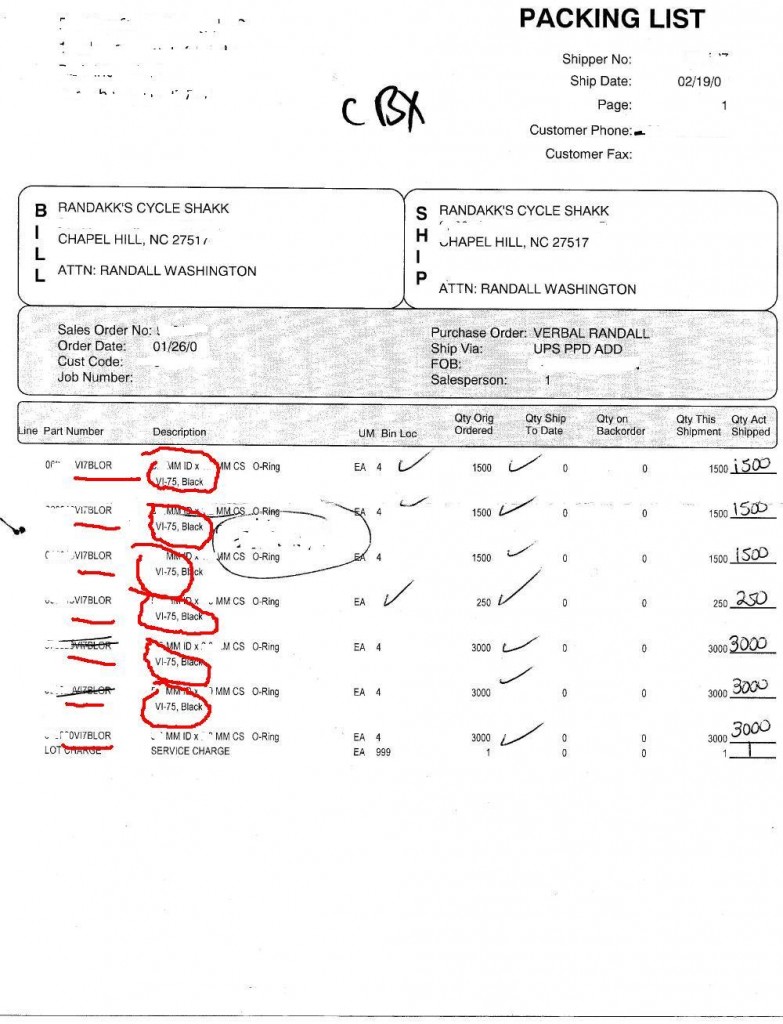 CBX / CX500 / FT500 / DOHC Four / etc. Orings
Customers of Randakk's Cycle Shakk can rest assured that all of the orings in Randakk's Master Kits are actually made of Viton®!