The Randakk Rallies have been lots of fun for me and I was able to meet lots of customers face-to-face, but I've decided I can meet even more customers by "piggybacking" my vendor / hospitality events with other major motorcycle rallies and events throughout the year. This will also allow me to attend more events and cover a wider geography.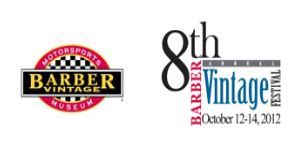 Date: October 12 – 14, 2012
Location: Birmingham, AL
Randakk will attend with his supercharged CBX.
8th Annual Barber Vintage Festival:
I will have the supercharged CBX with me at the Barber Vintage Festival if anyone wants to see it in person.
You will be able to find me and the supercharged CBX in a number of prominent spots notably:
1. Best spot: Motorcycle Classics Magazine pavilion …especially the Bike Show on Saturday, October 13th.
2. Cruising the Vintage Japanese Motorcycle Club area on Friday, October 12th.
3. In the race paddock pit area supporting ace AHRMA vintage racer Dennis Parrish (look for Randakk logos on the hauler).
4. At the J. Wood & Company Vintage Bike Auction (various times throughout the weekend …just me, not the CBX!).
5. Ride the Track Parade event on Sunday morning, October 14th.
I will have a limited supply of free "swag" items with me including Randakk Key Fobs and awesome Winged Goddess Bonneville T-shirts from my pal Winston.
Free while they last to the lucky souls who can track me down!
Event Details here…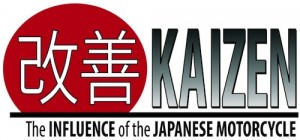 Date: September 7, 2012
Location: Newburg, NY
8th Annual Barber Vintage Festival:
Opening on Friday, September 7th is Ed Youngblood's next major project:
Kaizen – the Influence of the Japanese Motorcycle at the Motocyclopdia Museum in Newburgh, NY.
This must-see exhibit will feature the top 50 Japanese models – the first exhibit in America dedicated exclusively to classic Japanese motorcycles.
"Kaizen" is a Japanese word that means "beneficial change." It is also the business philosophy of constant incremental improvement that enabled the Japanese to revolutionize the world motorcycle market.
One of my own GL1000s is among the bikes chosen for display.
I will be at the Grand Opening of the Kaizen exhibit on the morning of September 7th. Make plans to join
Event Details here...

Date: May 12, 2012 (Rain or shine)
Location: Spencer, North Carolina
This event will be held at the North Carolina Transportation Museum.
Take I-85 to exit#79, then follow the brown signs to the museum
Show Classes for:
British
American
Japanese
European
Custom
Competition Retro
Websitehere… 
Ronald McDonald House Charities® benefit.
Date: March 30, 2012 from 9:00AM – 4:00PM
Location: 1245 Pine Tree Rd. in Alton, VA
Benefit Laps will be held on Friday, March 30th from 9:00 AM to 4:00 PM, with the last group taking the track at 3:30 PM that day.
The cost is $25 per session, which will last from 20 to 25 minutes. Donations of $25 either in cash or by major credit card will be accepted.
If enough motorcycles show up, a group will be formed for bikes only. If not, the ones that do show up will be added in with cars, but in the back of the groups for the rider's protection.
There is no pre-registration for this event. You will pay on the morning of the event: $25 per session with each session lasting 20 to 25 minutes. The laps will be on the North course.
Format: paced laps "(spirited" but safe velocities). No passing permitted.
All proceeds benefit the Ronald McDonald House Charities.
Event Details here…
2011 Events of Note
2010 Events of Note