Introduced in 1975, the Honda GL1000 was a stunning technical achievement. The original, unfaired GoldWing was the world's biggest, heaviest and second fastest bike available at the time (only the mighty Kawasaki Z1 was swifter). Novel features included a liquid-cooled flat four engine, belt-driven overhead cams, shaft drive, triple disk brakes, under-seat fuel tank, counter-rotating alternator, two oil pumps, "floating" piston pins, faux top shelter "tank" and detachable back-up kick-start arm to mention a few. Honda used the GL1000 to showcase its considerable engineering prowess and put other motorcycle marques on notice that it was a force to be reckoned with. For the first time ever, there was a heavy collaboration between Honda's motorcycle and automotive engineering teams on the '75 Wing.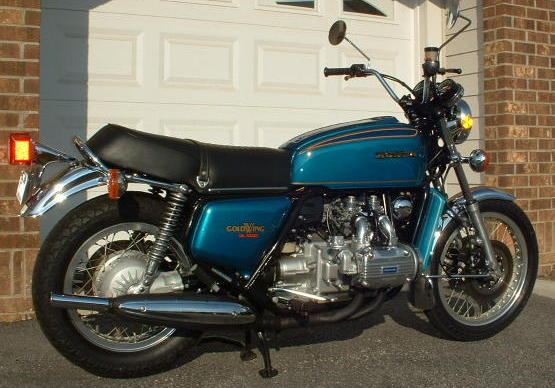 In addition to its prodigious power, the original Wing was especially smooth, comfortable and reliable. The clever packaging resulted in a high degree of mass centralization that made the GL1000 easy to handle despite its heft. The large diameter front wheel (19″) combined with wide, flattish bars yielded an almost dirt bike like handling character.
Designed primarily for the wide-open spaces of the US market, the GL1000 was a mediocre sales success for Honda at first. The original target was the rider looking for superbike performance in a unique, comfortable package. Eventually, Honda's customers help it find a large, worldwide market of savvy touring riders who recognized a brilliant mileage platform when they saw one.
I agree with the many experts who have selected the original GoldWing as one of the best motorcycle designs ever. One example: the Guggenheim Museum selected the original Honda GL1000 as one of the featured machines in the wildly popular Art of the Motorcycle exhibition series – limited to the top 75 models ever!
Approximately 100,000 machines were made for worldwide distribution during models years 1975-1979. Collector interest has grown dramatically in the last decade especially for original, unmolested examples. Clean low mileage examples are quite scarce and command a significant premium.
One example: in October 2006 a 1976 GL1000 LTD from the Otis Chandler museum fetched $24,200 at auction!
General Guidelines:
1. All of these bikes are now 40+ years old, so expect some degree of mechanical and cosmetic challenge no matter how sweet the target appears.
2. Full documentation from prior enthusiast owners is the best bet. Otherwise, assume maintenance has not been performed and factor this into your negotiation.
3. Resist the urge to buy any "barn fresh" bike that been sitting for any length of time. A "runner" that is capable of self-propulsion (and stopping!) generally presents less risk and expense than the unknowns involved with a "sitter" no matter how good it might look.
4. Originality rules! Collectors are driving up the value of pristine, original specimens. They look for examples as close as possible to showroom condition. None of the GL1000s came equipped with fairings, bags, racks, windshields, etc. Today, most GL1000s are equipped with such period, aftermarket accessories. Unfortunately, these accessories actually detract from the bike's value to collectors. Even if you desire these bits, their presence is a negotiating chip in your favor.
5. Clarify your purchase intentions. Do you want a collectible, concours show bike or an economical and rewarding touring rig? As of this writing, museum quality specimens are valued at $10,000+ (US). However, very presentable examples can be had in the $2,500 – $4,500 (US) range.
VIN / Engine Match?
Lots of engines have been swapped over the years. One of the checks I make when buying a bike is to verify that the engine and frame numbers "match." Here's a chart that helps decipher VIN codes.
Carb / Engine Match?
You should also check to make sure that the bike you are evaluating has the correct carbs for that model year. Carb code location is explained here.
more details on carb codes here.
Most collectible GL1000 models are:
* First year 1975 KO models (red or blue)
* 1976 LTD (special model to commemorate the 200th anniversary of the United States) )
* Second year 1976 K1 models in Sulphur Yellow
Less collectible GL1000 models are:
* Second year 1976 K1 models (colors other than yellow)
* Third year 1977 K2 models (any color)
Least collectible GL1000 models are:
1978-79 models. These had questionable (to some) styling changes, were a bit heavier and had slightly softer cams that reduced peak performance a bit. Still very desirable!
Specific Issues:
1. Exhausts – The original "horse collar" mufflers found on the 75-77 models mufflers are quite scarce. The OEM muffler is also one of the best performing and quietest mufflers ever produced. Bikes with sound OEM mufflers command a significant premium. MAC, Jardine, JAMA and a few others make mufflers to fit the GL1000, but they leave something to be desired in terms of appearance, finish, sound level and performance. Absence of the correct OEM muffler warrants a major value deduction.
2. Engines – GL1000 are stone cold dependable in terms of internal engine component reliability. Honda engineers overbuilt the engine internals, so well-cared-for bikes routinely rack up prodigious mileage totals with minimal issues beyond routine maintenance. Still, it's a wise practice to do a compression test before purchase.
There is no provision on the early engines for controlling slack in the primary chain. With wear, these can cause a characteristic diesel-like "rattle." This nuisance noise appears at idle and disappears under load. It is of no real concern and can be controlled through accurate tune-ups with special attention to ignition timing and carb synchronization.
GL1000s have solid mechanical valve lifters that require periodic adjustment. Accurate valve lash is critical for maximum performance and smooth idle.
The valve train on the GL1000 incorporates an "interference" design. This means that if either of the rubber belts that drive the camshafts ever breaks, catastrophic engine damage will occur instantly as the pistons crash into the valves. Timing belt maintenance / replacement is critical on GL1000s. Look for evidence that this required maintenance has been done recently. In most cases, you will need to budget for an immediate replacement!
Accessory items like starters, water pumps, and fuel pumps are the only typical engine-related failure items. Fortunately, any of these can be replaced without engine removal.
3. Electrical – The electrical/charging system on GL1000s is well-designed and fairly reliable compared to its contemporaries. In fact, stator problems are quite rare compared to later four-cylinder GoldWings. Most charging problems on GL1000s are fairly easy to diagnose and remedy. The usual culprits are poor battery cable/starter/ solenoid connections, bad 30 amp master fuse and weak batteries. Occasionally, a voltage regulator will fail. Even rarer is rectifier failure. Stator reliability is a good thing since replacement requires engine removal…a rather laborious task.
Even though the hardware Honda specified is bulletproof, there is a significant issue of stator output. It's fine for the normal use Honda anticipated, but there is virtually NO surplus charging capacity to handle heavy accessory electrical loads. The stator is rated at only 20 amps, so there's very little reserve once the OEM headlight, taillight, running lights, turn signals, brake light, cooling fan and ignition is supported.
Bikes with fairings or numerous accessories will typically have shoddy wiring associated with these installations. Poor wiring should be investigated and resolved.
4. Ignition – The factory coils are rather anemic and the original breaker point ignition is a hassle for most owners (and many mechanics!). However, you will want to retain these bits for a show bike. Otherwise, an aftermarket ignition (like Dyna) and good aftermarket coils are decent upgrades. Make sure the installation and wiring was performed to a high standard – often this is not the case. If you retain the original ignition setup, proper setting of the points and ignition timing is crucial for good performance. Look here for help on performing this maintenance.
Weak batteries affect more than starting – they actually compromise ignition performance…especially on bikes with OEM ignitions. Budget for a new battery unless you can verify that the battery is fresh.
5. Brakes – GL1000s have outstanding brakes for their vintage. In fact, the GL1000 was among the first bike to offer triple disks. The braking system is simple and easy to repair. Most problems arise due to lack of use and failure to replace brake fluid at recommended intervals. Assume that any GL1000 you buy will need brake system rejuvenation. Many bikes still have the OEM hoses. These are way overdue for replacement!
6. Fork seals – Honda made numerous running changes to fork seals. The current design is quite good. Fork seal replacement on a GL1000 is easier than most bikes. The fork tubes can be left in the triple tree… only the "sliders" need to be removed.
7. Carburetors – Most GL1000 carb problems result from a lack of use. The idle fuel jet passages are incredibly small and are easily plugged by fuel residues. For this reason, a product like Stabil should be used continuously in the fuel. GL1000 carbs have an undeserved reputation for being "finicky." This is not so in my experience. Properly cleaned and adjusted GL1000 carbs will stay that way for a very long time so long as they are not allowed to gum up from lack of use. Carb synchronization is very critical, but it must be done after the ignition settings are perfect. This vendor has the best resources to rebuild and service GL1000 carburetors: www.randakks.com 🙂
Check for mismatched carbs before purchase. There is a unique carb code chart here.
for each year of GL1000. The "early" bikes (75-77) had hotter cams so they have much different carburetors than the "later" bikes (78-79) even though they look the same externally. Do not interchange engines with carbs intended for a different model!
GL1000s with single carb conversions are in the market. You will also find GL1000s with GL1100 carbs. Such conversions are ill-advised from a collector's point of view.
8. Body Panels – GL1000s have body panels made from metal, fiberglass and plastic. There are unique colors associated with each year. For example, yellow bikes were only made for the 1976 model year. Also, there are minor year-to-year variations in the pinstriping details. All 75-77 panels will interchange, so be sure any bike under consideration has the right panels for its year of production. Bikes with original matching panels command a premium even with some "patina" from use. It is very difficult (and expensive) to re-paint to a high standard, so re-painted bikes usually get deductions.
9. Wheels – All "early" bikes should have spoked wheels. These should be evaluated for trueness, loose spokes, and corrosion problems. The restoration of spoked wheels is straightforward but expensive! Later bikes will have Comstars. These should be carefully examined for cracks, rivet failure, and other defects. Early bikes with Comstars receive a value deduction for non-originality.
10. Frames – Examine carefully for rust damage. Especially vulnerable is the removable frame member under the left side of the engine which serves as the mount for the side stand. These will collapse on severely rotted examples.
11. Spares – Since the GL1000 was manufactured in significant numbers, sourcing replacement parts is not overly difficult given the vintage. Honda does a decent job of maintaining an inventory of new spares. Aftermarket industry support for the GL1000 is significant and growing. For obsolete NOS parts, here are some vendors that provide excellent support for this model:
Classic Motorcycle Supplies (Netherlands): http://www.cmsnl.com/
David Silver Spares (UK): http://www.davidsilverspares.co.uk/
David Silver Spares (US location: http://www.davidsilverspares.com/